Russia is the biggest country in the world, covering around one-eighth of the world's surface. Therefore, it comes as no surprise that it has an immense natural and cultural heritage. So if you're doubting which country to choose for your next trip, pick Russia, as this country has hundreds of fascinating places waiting to be discovered. In this list, we'll go over Russia's 21 most amazing natural and cultural sites that should be on everyone's bucket list.
#21. The Church Of The Savior
The magnificent city of St. Petersburg has an extremely rich cultural heritage, and it is most famous for its countless churches with their traditional Orthodox architecture. One of the most beautiful churches you can find is The Church of the Savior on Spoiled Blood.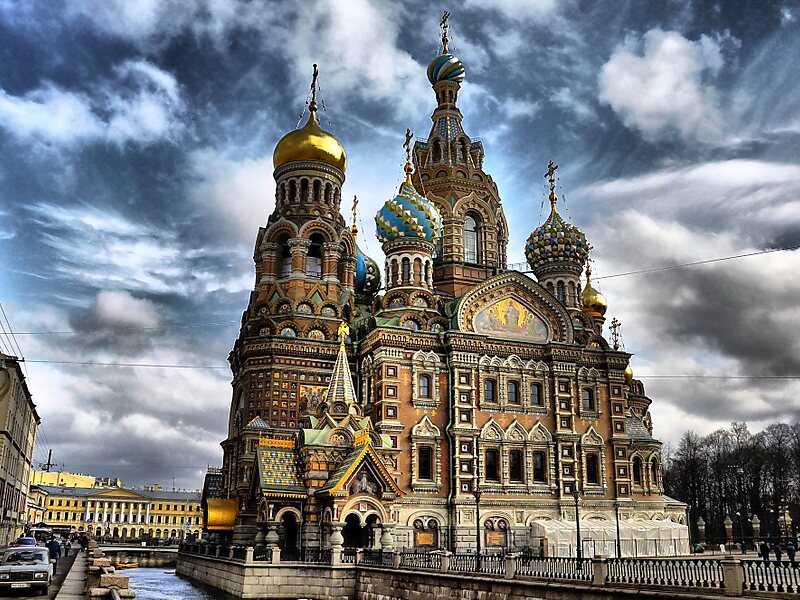 Photo: Courtesy of Sygic Travel
Don't be afraid by the church's creepy name, because it's truly an architectural wonder. The church was built between 1883 and 1907 and funded by the imperial family. Its most unique feature is that it is covered in intricate mosaics both from the inside and the outside.
#20. Kaliningrad
Kaliningrad is Russia's most western enclave. Take a look at a European map, and you'll notice that this region lies to the West of Poland and Lithuania, thus separated from the rest of Russia. It is one of the least visited spots in Russia, but there are plenty of reasons why to include it on your list.
Photo: Courtesy of The Culture Trip
The city of Kaliningrad features beautiful Germanic architecture, but it is also surrounded by mesmerizing natural sites. For instance, the enclave features a stunning Baltic coastline and a green Birch forest. Last but not least, it is the gateway to the Curonian Spit, a 98-km long sand-dune spit.
#19. Ural Mountains
The Ural Mountains is the most ancient mountain range in the world. It runs right through the middle of Russia, separating the country's European and Asian halves. As you may imagine, it is a great place to go hiking or trekking. But how can you reach these remote mountains?
Photo: Courtesy of The Culture Trip
The city of Yekaterinburg is the most accessible point to reach the Urals. From here, you can take a day-trip or a short hike and discover the Ural's hidden treasures and stunning scenery. Nature lovers, you can't miss it!
#18. Lake Teletskoye
Lake Teletskoye is located in the Altai, one of Russia's 21 republics. It is one of the most beautiful areas in the country, and this crystal-clear lake surrounded by forested mountains proves it. This lake features a 43-mile-long shoreline, and it is a great spot for kayaking or paragliding.
Photo: Courtesy of The Culture Trip
As you can see in the picture above, the lake is surrounded by steep gorges and green mountains, but also by caves, waterfalls, and bays. Therefore, this site offers all types of adventurous outdoor activities. I wouldn't miss it for the world!
#17. Krasnaya Polyana
This remote Siberian village became internally known after the 2014 Winter Olympics, but in spite of that, very few people travel here. The city is surrounded by snow-capped mountains, and it is one of the main skiing resorts of the nation.
Photo: Courtesy of The Culture Trip
So if you're a hiking or skiing fan, don't doubt visiting this beautiful village, which is easily accessible from the famous city of Sochi. The mountains offer stunning panoramic views of the cities, where you'll appreciate the beautiful aqua-green roofs of the hundreds of houses. And if you stay for several days and you're in for a day trip, check out #9!
#16. Sergiyev Posad
Sergiyev Posad is one of the eight cities that form the Golden Ring, a tourist route made up of several beautiful lively villages. It's famous four its numerous onion-shaped domes, and some of them are so tall that they can be seen from almost every point of the city.
Photo: Courtesy of The Culture Trip
This city is also home to the famous Troitse-Sergieva Lavra monastery, which is one of the country's UNESCO Heritage Sites. This 14th-century monastery is regarded as the spiritual center of Russia, and it's only 70 km away from Moscow, thus making it an easy day trip.
#15. Dargavs
Dargav is one of the strangest and least visited sites in the country, but it's just as spectacular as the rest of the places on this list. Located in the Republic of North Ossetia-Alania, the quaint village of Dargav is home to an ancient cemetery, which is why it is often referred to as the City of the Dead.
Photo: Courtesy of The Culture Trip
But what's so special about this cemetery? To begin with, it features hundreds of stone tombs, which are so beautiful that they almost seem like tiny houses. It is also surrounded by breathtaking and misty mountains, which add a bit of charm to this spooky site.
#14. Ruskeala
The small and calm village of Ruskeala is located in the northwestern region of Karelia, and it is home to only a few thousands of people. It's famous for its breathtaking scenery since it is surrounded by the beautiful Ruskeala Mountain Park.
Photo: Courtesy of The Culture Trip
This park is packed with vast forests, rocky cliffs, and curvy rivers with pristine waters. Thus, it's the perfect destination for kayaking, hiking, and even for swimming. But if you're in for a swim, make sure you come in summer, or else you'll freeze!
#13. Ussuri Bay
Ussuri Bay is another of the major landmarks of Russia's eastern side. Just a short ride from the city of Vladivostok, this site is popularly known for its thousands of colorful glass pebbles. Do you have any idea how these pebbles originated?
Photo: The Siberian Times
Believe it or not, these glassed pebbles were formed from piles of garbage. This bay was once packed with hundreds of discarded bottles and broken bits of glass, and as the decades went by, they were smoothed over by the lake's waters, forming these multicolored pebbles. Impressive, right?
#12. Peterhof Palace
This list is mostly made up of nature sites, but what about the country's major urban centers? Well, St. Petersburg is often regarded as one of the prettiest cities on the planet, and Peterhof Palace is just one among the city's many architectural wonders.
Photo: Courtesy of The Culture Trip
This enormous palace has been built in an elegant baroque design and style. It was constructed in the mid-18th century during Peter the Great's reign, and it is often referred to as the Russian Versailles. It features vast gardens and elaborate fountains, and visiting the whole site requires a half-day trip.
#11. Dykh-Tau
As you can see, the Urals are not the only stunning mountain range that Russia has to offer. If you'd rather stick to the Western side of the country, then don't doubt visiting the Bezengi Valley. This area is home to the country's highest snow-topped mountains, the reason for which it is popularly known as the Russian Himalayas.
Photo: Courtesy of The Culture Trip
The valley's most outstanding landmark is the Dykh-Tau, one of its highest and most impressive peaks. Professional alpinists travel from all over the world to try and reach the mountaintop, but if you're just a regular non-pro climber, you can easily hike to the base camp.
#10. The Red Square
What's the first thing that pops to your mind when you hear the word "Russia"? I'm pretty sure that the most common answer will be St. Basil's Cathedral. This architectural wonder is located in the center of Moscow's Red Square. But this square is home to many other historical wonders.
Photo: Courtesy of Lonely Planet
Apart from the cathedral, this site is also home to the Kremlin's red walls and the historic GUM department store. You can also visit Lenin's mausoleum and learn about one of the most important political leaders of the Russian Revolution. History lovers, this place is a must!
#9. Lake Kardyvach
This beautiful lake is just 44 km away from the mountainous town of Krasnaya Polyana, which has been ranked #17 on our list. It is surrounded by breathtaking mountains, which makes it a great hiking destination.
Photo: Courtesy of The Culture Trip
One of the most famous mountains in the area is Mount Laub, which is a great spot for paragliding. But this is not all! The mountains near Lake Kardyvach also feature cascading waterfalls and striking glaciers. Nature lovers, what else can you ask for?
#8. Olkhon Island
Olkhon Island is the largest island in Lake Baikal and the third-largest lake island in the world. It is surrounded by rugged cliffs and beautiful bays. One of its main landmarks is the Shamanka Rock located in Cape Burkhan, shown in the picture below.
Photo: Courtesy of Russia Trek
This island is also a very important shamanic site for the Buryat people, who have inhabited Siberia for over 10 centuries. So for those of you interested in anthropology, you can visit the Buryats' traditional wooden huts and learn a bit about their lifestyle.
#7. Mount Elbrus
Did you know that Europe's highest peak is found in Russia? We're talking about Mount Elbrus, an 18,511-foot-high volcano. It is located in the Caucasus mountain range in southwest Russia, really near to the Georgian border.
Photo: Courtesy of Lonely Planet
Of course, reaching the peak is only for pros, but there are hundreds of alternative hiking routes for beginners and amateur adventurers. So don't think twice and come to Mt. Elbrus, where you'll find some of the country's most breathtaking views. After your hike, you can head towards Georgia, which is another unique country.
#6. Petropavlovsk-Kamchatsky
Apart from being nearly impossible to pronounce, this is one of the most beautiful sites in Russia, and it's the perfect destination for nature lovers. Petropavlovsk-Kamchatsky is the main city of the Kamchatka Peninsula, and it is located at the easternmost tip of the country. Here's a fun fact: did you know Kamchatka is closer to New York than to St. Petersburg?
Photo: Courtesy of The Culture Trip
This city is surrounded by two volcanoes, including the famous Kamchatka Volcano. Don't you worry, neither of them is active, so you can easily hike to their summit. The Kamchatka Peninsula is home to 158 other volcanoes (29 of which are active). So if the 2 volcanoes located near the city aren't enough, you can book a volcano-belt one-week tour through any of the city's agencies. Now, can you guess what our top 5 is?
#5. Solovki Islands
Most people who travel to Russia only stick to the Western half of the country. But in spite of this, very few tourists visit the majestic Solovki Islands, one of West Russia's many hidden treasures. This archipelago is located in Onega Bay in the White Sea, and it was once home to one of the Soviet Union's main gulags.
Photo: Courtesy of Air Pano
These islands have been inhabited by hermit monks ever since the 15th century, so they are now packed with centuries-old monasteries. The main island is also home to a couple of beautiful ancient cemeteries. Without a doubt, Solovki's remoteness adds to its charm.
#4. Kizhi Island
The buildings located at Kizhi Island are so amazing and surreal that they almost look like a cartoon. This island is home to a group of 18th-century wooden churches, which lie on the banks of Onega Bay. They are so unique that they've been designated a UNESCO heritage site.
Photo: Courtesy of El Viajero Feliz
It is believed that these structures were built somewhere around 1713, although a clock tower was added in the 19th century. They are one of the finest examples of Russian and Scandinavian medieval architecture, and there isn't anything else quite like it. Now get ready for our top 3!
#3. Kola Peninsula
Located in the northernmost part of Siberia, the Kola Peninsula is one of the most remote places in the country. In fact, most of the peninsula lies within the Arctic Circle. The bad part is that it's quite difficult to get there, but the good part is that it boasts unique views that can be compared to no other place in the country.
Photo: Courtesy of The Culture Trip
Just like in the Arctic, the summer days are sunny the whole day, even at midnight! On the other hand, during winter, the Kola Peninsula is one of the best sites in the world to spot northern lights. The port city of Murmansk is the best place from where to depart to Kola's mountains, tundra, and quaint little villages.
#2. Mount Belukha
If there's one thing you should've learned by now is that Russia is packed with mountains, from East to West. Now, let's take a look at Mount Belukha, the highest peak in the Golden Mountains of Altai. This site is so spectacular that it has been named a UNESCO World Heritage Site.
Photo: Courtesy of The Culture Trip
Take a quick peek at the picture above: can you believe those storylike mountains are real? While climbing Mount Belukha requires professional skills, there are tons of trekking routes which are apt for beginners. You can also book tours that start in Russia but finish in the Mongolia or Kazakhstan since the mountain range covers all those countries!
#1. The Valley Of Geysers
And yes, yet another mountain site! The Kamchatka Peninsula isn't only worth visiting because of its volcanoes, but also because of the beautiful Valley of Geysers. This valley is home to the second largest concentration of geysers in the world, only after the Yellowstone National Park.
Photo: Courtesy of The Culture Trip
Valley of Geysers boasts nearly 50 steaming-hot geysers and springs which are spread across an 8-km squared canyon. These springs come in unique shades and colors, as reflected in the turquoise waters that appear in the picture above. Oh, and let's not forget that these geysers are surrounded by towering snow-capped mountains, just 180 km away from Petropavlovsk-Kamchatsky.
Related posts: