A little story about a small town I used to live in.  There are a lot of lakes there for those who like to go fishing.  And a lot of pine tress for those who want pine cones.  It's close to two militar bases.  Very friendly people there.
Browns Mills, NJ is about 45 miles Southeast of Philadelphia, PA and about 60 miles South of New York City, NY. I lived there for over 15 years and loved it. A lot of my friends still live there. It is in Pemberton Township, Burlington County. It takes about an hour and a half to drive to Atlantic City and about 40 minutes to drive to the shore. It is nestled in "The Pinelands". Pine trees and soft sand. There are numerous lakes to fish and swim in. They also grow cranberries there.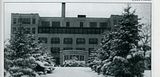 It is home to the world famous Deborah Heart and Lung Center. (That is where I had my first angioplasty). Deborah was originally built as a sanitarium for people with tuberculosis. Many people came to Browns Mills because they believed the fresh, pine air could help those with the illness. Today, Deborah is well-renowned for its treatment of cardiovascular and pulmonary diseases.
Browns Mills is next to McGuire AFB and Fort Dix (formerly Camp Dix). The first draftees arrived at Camp Dix on September 5, 1917. Camp Dix became Fort Dix on March 8,1939.
Back in the day, weddings were considered tremendous social events filling every hotel and assembly hall.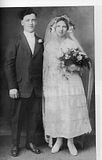 It is a small town. Population in July 2007 was 11,848.