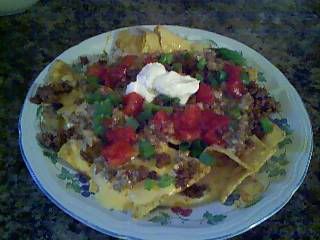 This is a very simple and quick recipe to make. Even kids can make this. You can mix and match different ingredients to fit your taste. These are what I use, if I have them all on hand. I never get tired of this. It's also great for parties, sleepovers, and movie night snacks. This is a meal in itself. I love it!!!!!!!!
Ingredients that you will need:
1 bag of Cool Ranch Doritos
Ground beef
Taco seasoning
1 can of Nacho Cheese Sauce
1/2 block of Mexican Cheese
1 cup of Shredded Cheddar Cheese
1/2 can of Diced Tomatoes
Sour cream
Green onions (optional)
Black olives (optional)
To start, brown the ground beef in a skillet and drain the access grease, and the taco seasoning as directed on the envelope.
Open the can of Nacho cheese sauce and heat it in a small sauce pan adding milk as directed. Stirring constantly so that it does'nt stick.
Cut up the half of block of Mexican cheese and heat it on low in a small sauce pan, adding milk as needed til creamy.
While your ground beef is browning, this would be a good time to open cans, chop green onions, and prepare whatever else is needed to be done.
Spread Doritos out in a plate, tray, or what serving platter you choose.
Next add the ground beef on top of the Doritos
Then the three cheeses in no particular order. Nacho cheese, mexican cheese and shredded cheddar cheese.
Spread the diced tomatoes as desired.
Top with sour cream, green onions, and black olives as desired.
If you are a lover of Nachos then this is the meal for you. You will not go wrong, it's just too easy and delicious!