Every iPhone has a built in kill switch that allows Apple to disable any app store application it wants.  If they find an application on your device that they don't like, they can instantly disable it. Maybe you've found that a recently downloaded iPhone app has stopped working. Maybe you live in fear that Apple will remotely disable your favorite application.  Whatever your reason, there's now a way to block Apple's iPhone killswitch, making sure you can use any app you want.
Step 1. The first step to removing the kill switch is to jailbreak your iPhone.  A lot of people hesitate in doing that, but it's simple and easy. If it's not jailbroken already, get the program at Quickpwn.com and jailbreak it.
Step 2. Open up Cydia, tap Search in the lower right hand corner and type in Bossprefs at the top. Select it from the items that appear, and click the install button to install it.
Step 3. Once it's installed, open it from the dashboard (home screen).
Step 4. There will be a list of toggle switches.  You actually don't want to use any of those.  Instead, hit the More button in the upper right hand corner. This will bring up another list of options.
Step 5. All the way at the bottom you should see a button to Disable Apple App Killswitch. Tap it to bring up the BossPrefs To Home dialogue. This will give you a description of the killswitch and an option to block it.  Select "Neuter!" and the killswitch will be blocked!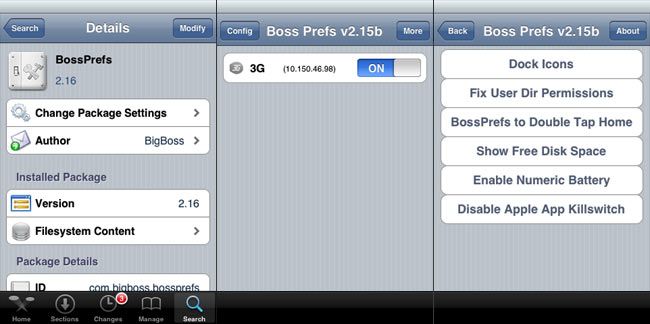 Additional Tips
If you ever want to turn the killswitch back on, you can repeat steps 3-5.  When you get to step 5 you'll notice that the bottom option says Allow Apple App Killswitch. Simply tapping it will re-enable the killswitch.
Apple claims the killswitch is for your own good, and while no one really buys that you should disable it at your own discretion.