So you've decided it's time to throw some unconventional colors in your hair.  You want something weird – maybe a vibrant red, blue or pink.  You could go to a salon, but it could cost over a hundred dollars! This article will show you how to get Salon results at home, and dispel some of the long standing hair dye myths in the process.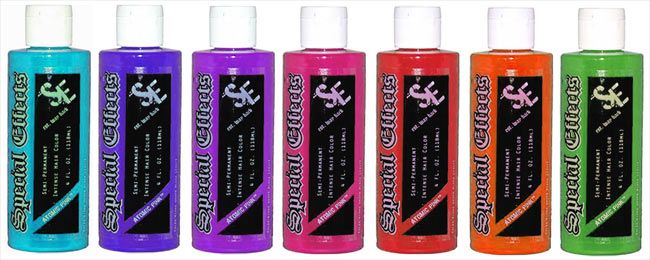 Things You'll Need
Gloves
Bleach Powder
40 Vol Developer
Special Effects Color Dye
Dye Clothes
Dye Towel
Small mixing bowl
Hair clips / ties (Optional)
Hair Gel (Optional)
Step 1. This is a several hour project, so you need to make sure you're ready. You'll see the best results if you haven't washed your hair in 24 hours. Gather all your supplies together in one place. If you're having trouble finding 40 vol developer and powder, try a professional hair care outlet (like Sally Beauty Supply) or salon.  The color can be a bit harder, but if you don't mind shopping online then HotTopic.com or even eBay would be a good place to look.  
Step 2. If you're only bleaching a section of your hair, separate it from the rest using clips or hair ties. If your hair is short, you can push back and gel the parts you won't be dying to get them out of the way.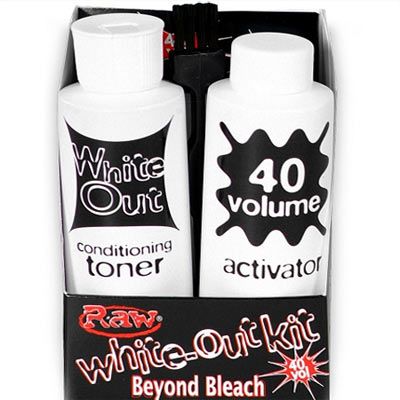 Step 3. Put on your gloves.  Mix the bleach powder with the 40 volume developer into a small mixing blowl.  Make sure you follow the mixing ratio on the package.  Using a small bush, spread the bleach into the desired area of your hair (avoiding the roots).  Make sure the bleach is evenly distributed or you'll have dark spots when you're done.  Go over everything one more time to make sure it's thoroughly covered.  Do your roots last, trying to avoid the scalp.  Getting bleach on your scalp will not only burn, but will make your hair fall out as well.
Step 4. The bleach package will tell you to wait something silly like fifteen minutes.  We're going for an extreme color, so leave it in until it's as light as possible. Check every fifteen minutes or so. You can leave it in for up to an hour, but no longer than that.  The bleach will burn the longer you leave it in.  A little burning is natural, just suck it up. Once it's light enough, rinse the bleach out.  When you do so, you'll inevitably notice some dark spots.  You can re-bleach, but re-bleach ONLY those. Re-bleaching the rest of your hair will turn it orange and fry it out.
Step 5. Some people will tell you to wait a day before putting the color in, but that's unnecessary.  You already have your hair dye operation going, it won't hurt to do it once your bleach is rinsed out and your hair dried.  If need be, re-seperate the bleached part from the rest of your hair as you did in step 2.  Start rubbing the Special Effects color dye into the desired area. Get a good thick coat on.
Step 6. One of the key parts to this whole thing is that you leave the color dye in an obscenely long amount of time. Two, maybe three hours depending on how much hair you covered.  This can actually be a challenge.  Read a book, watch a movie.  Try not to get dye all over the place.
Step 7. Once the dye has literally dried and hardened, rinse it out with cold water.  Cold water, not warm, will help seal in the color. As with the bleach, it's also important that you're rinsing with water only, no shampoo or products.  If you used gel in other parts of you hair, you can lightly shampoo that area only.  When you're done, dry your hair off.
Step 8. If you followed the instructions, you hair will now be a vibrant awesome color.  From now on, you have to take special care of this area of your hair.  Wash your hair with cold water only! Use a color safe shampoo, and try to wash your hair less frequently. That might sound gross, but the less often you shampoo your hair the longer the color will stay in.  As it starts to fade, repeat step 6 and 7.  Use bleach only periodically for your roots.
Additional Tips
There are several brands of color hair dye.  Most is cheap.  The only one I've found repeatedly reliable is Special Effects.
If you had a fiend to help you with all this, it would go a lot easier.  It's a lot of work, so maybe you could return the favor and dye their hair as well.
Some colors (usually the lighter ones) just work better than others.  Red, orange, and pink work best.  Cooler colors like blue and purple are harder to do and generally come out darker.
You should have a special set of clothes and towel(s) just for hair dying.  You're going to get bleach and dye on yourself no matter how hard you try not to.
The usual hair dye warning – a small percentage of people can incur skin damage from these products.  Follow the warnings on the packages.