Just recently Microsoft announced POP3 support for Hotmail and Windows Live Mail. What does this mean for you? It means you can finally use that little stamp icon that's been sitting in your Mac's dock to read your email. How exciting!
If you're looking for setup information for your iPhone, you should read this article instead.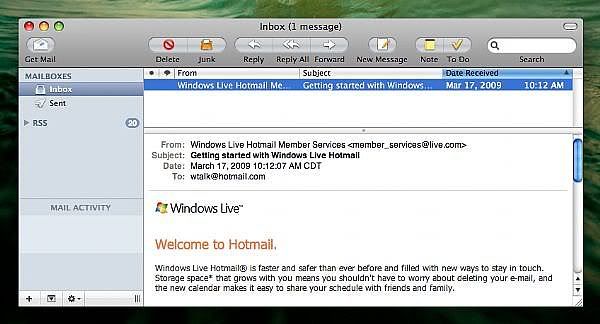 Step 1. Open Apple Mail. Go to File in the menubar and click "Preferences."
Step 2. Under the Accounts tab, click the + button in the lower left hand corner. Fill in the fields and click Continue.
Step 3. Set the Account Type to POP. Type in a description. Set the Incoming Mail Server to pop3.live.com and enter your User Name and Password. Make sure you put the full email address (including the @hotmail.com) in the User Name field. Click Continue.
Step 4. Set the Outgoing Mail Server to smtp.live.com and make sure the "Use only this server" box is checked. Check the "Use Authentication" box and enter your full email address and password. Click Continue.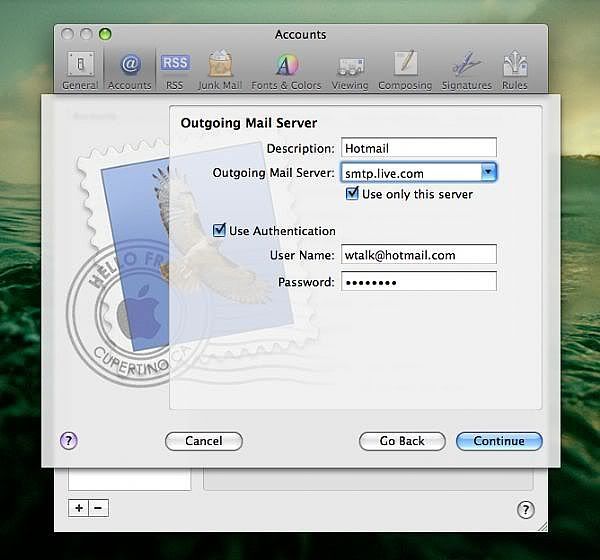 Step 5. The Account Summary window should pop up. Make sure your details match up against the ones pictured here. Once everything looks good, click Create. Your new account is ready to use!
Additional Tips
This tutorial works for both Hotmail and Live mail accounts. If you're setting up another client, make sure your POP server is on Port 995 and that your SMTP server is on Port 25 or 587.
Don't forget to use your full @hotmail.com or @live.com account as noted above.