Finally the Indian Navy is gearing up to match china. The latest nuclear powered submarine 'Nerpa' has joined the Indian fleet.  The 'Nerpa' is a Russian submarine and has been leased from Russia for 10 years at a cost of $ 900 million.
This is not the first nuclear submarine with the Indian navy as earlier the Russians had loaned the nuclear powered , Charlie class ' Chakra'  for training purposes. The submarine was returned back to Russia. The present deal was signed in 2004, but an accident in 2008 in the dock where many Russian sailors died delayed the project. The fire in the Black Sea port of Odessa set the project back by a year. The vessel would have joined the Indian fleet in 2010, but finally joined in end 2011.
 The submarine has a nuclear reactor which is Russian made. The vessel displaces 8140 tonnes and has a maximum speed of 30 knots per hour. It has a diving depth of 600 meters and an endurance of 3 moths. It will have a crew of 73 to handle it. It will have 30 officers on board.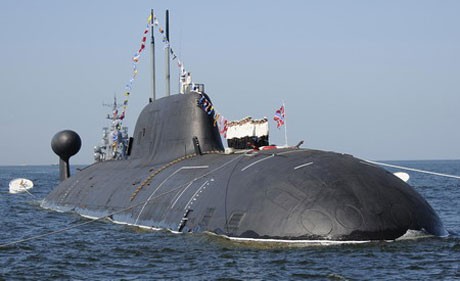 The Indians are also constructing an indigenous nuclear submarine named the Arihant. As per the DRDO chief VK Saraswat the Arihant is in the final stag of construction and could join the Indian fleet in a few months.  The engines of the Arihant are of Russian origin.
The Arihant will carry the K-15 missile which has already been test fired in the Bay of Bengal at least 15 times. The addition of the Arihant to the naval fleet along with the Nerpa will add muscle and teeth to the Indian navy and its operational reach will be many thousands miles. China is wary of the India as India has Interests along with Vietnam in the China Sea where it is helping the Vietnamese drill for oil. The Chinese do not like this.
The Indian navy will also augment the US Naval 5th fleet with which it has conducted many joint exercises. With the Goroshokov aircraft carrier also slated to join the fleet later this year, the reach of the Indian navy now extends deep into the Indian Ocean, Arabian Sea and Bay of Bengal.