There was aliterary festival atJaipur.268 writers attended it andSalman Rushdie author andwriter of the satanic verses was invited. In fact Rushdie was to be the star of the Festival. There is no doubt that Salman Rushdiean Indian Muslim is a writer of class and occupies a high place in the field of literature. Hisbooks fromMidnight Children, Satanic verses etc have captivated the minds of readersall over the world. Rushdie will certainly win further laurels and well in due course get a Nobel Prize as well.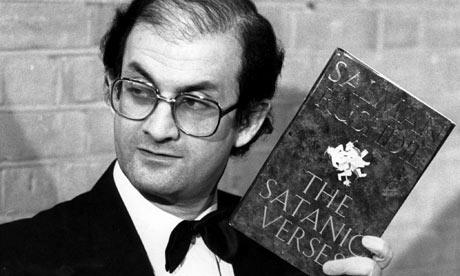 It was known that a fringe element in India consisting of die hard Muslims were opposed to his coming to India. In addition the Congress government with its own agenda of supporting the Minority community played a dirty card. At their behest theJaipur Police created an imaginary bogey of a threat to Rushdie's life and also spread thecanardthat hired killers from Mumbai underworld were coming to assassinate him. This is all hogwash. This is always been the policy of the Congress party to back the minorities. This time they are hoping it will help them win the UP election.
But Rushdie should have known better. He panicked like a chicken despite many eminent persons telling him not to worry and there was no threat. Yet Rushdie decided to skip the meet. Taslima Nasreen the well known Bengali writer, who has faced the wrath of the Islamists bravely, has tweeted in her blog that Rushdie was a coward not to come. She writes that cancelling his visit to India was another cowardly act, after he had apologized to the Mullahs to get out of the Fatwa issued against him.
 What Taslima tweets are true. Rushdie did apologize to the Mullahs, butto no avail,as the fatwa was not lifted. He went the extra mile to appease the Mullahs, but they did not relent. I do feel that in case Rushdie had shone some courage he should have attended theJaipurfestival. It would have been tremendous blow forfreedom of expression. Rushdie should have shown to the world the perfidy of the Congress government and also made a point that as a writer the pen is mightier than the sword