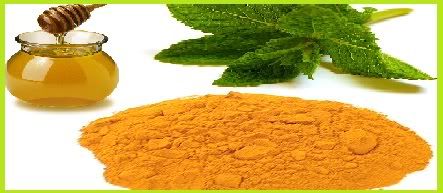 This mask recipe has it all and it is made from ingredients that are easily available cheaply everywhere. While the elements from turmeric will eliminate acne and scars, mint and honey will sooth and soften the skin. This mask recipe can also remove the tans. So if you have just spent time under the hot sun you can use it to restore the original color of your skin.
Required Ingredients:
For small face:
Half tablespoon of turmeric powder.
1 tablespoon of pureed mint.
1 tablespoon of honey
2 tablespoon of milk
1 mineral makeup brush
Step1. In a small bowl mix all the ingredients to make a fine paste. Make sure you are using a spoon to mix it all. Turmeric can leave stain in the hand.
Step2. Wash your face with your favorite face wash. Acne fighting facewash is recommended. But you can actually use any. Once washed, pat dry.
Step3. With the mineral makeup brush apply the paste over your entire face.
Step4. Let it rest for 20 minutes and then rinse off with warm water.
Step5. Keep repeating the process daily for best results.
Facts:
You can use the mask paste over your entire body.
You can store the leftover paste in the freezer.
Best time for using this mask is before bedtime.
Stop using the mask recipe if you feel it makes your skin itchy.
Any ingredient can be allergic. But in this mask recipe one can go without the other. The only thing to remember is that you have to use turmeric in it since it is the key ingredient.
If you do not have a makeup brush use a napkin to apply the paste. But never use your hands, for they might end up turning yellow from the turmeric.
Many people use turmeric in their hot milk to take care of their skin internally. If you wish to do this go for one table spoon of this ingredient. But make sure that it is not too much. Otherwise, you can get upset stomach.
You may also like:
Milk in Mask Recipe is not for Those who have Facial Hair
How to Treat Common Health Problems with Herbs Found in the Kitchen
The Disastrous Outcome of My Experiment with Jello Facial Mask
How To Make Acne Medication At Home