Italian also agrees with Sir Alex Ferguson that Howard Webb is a good choice as referee for Sunday's vital game and reiterates his desire to remain at Stamford Bridge
By Jake Watson
7 May 2011 13:13:00
ShareShare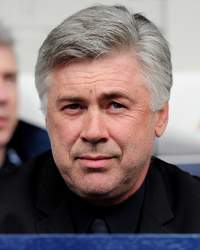 Carlo Ancelotti, Chelsea
Chelsea manager Carlo Ancelotti believes his side have the edge in the title run-in head of tomorrow's game against Manchester United at Old Trafford.
The Blues have dropped just two points from a possible 27 since falling 15 points adrift of Manchester United just over two months ago and Ancelotti believes their form will have caught everyone by surprise.
"Man United hoped they wouldn't have to play this kind of game against us," Ancelotti told reporters.
"If they'd had more of an advantage, it could have been an easy game against us – not easy, but a different game.
"They have to fight again for the title.
"Maybe two or three weeks ago, they didn't think in this game they'd need to fight so much.
"Mentally, for this reason, we can have an advantage."
Howard Webb has been confirmed as the referee who will take charge of the clash at Old Trafford and despite Sir Alex Ferguson fearing a poor decision, Ancelotti says he believes Webb to be one of the best.
"If the referee has no experience, maybe I can be a little bit worried about this, but with Howard Webb there is no problem," he added.
"It's not good to speak about the referee. I don't want to put pressure on the referee.
"I have trust in the referees in England. They are good, I think.
"If they make a mistake, as all referees do in the world, it's normal. You have to accept that.
"You either have to accept the decision of the referees or say there's a conspiracy.
"I'm a man who thinks they can make mistakes."
Ancelotti's future has come under increasing speculation in recent months despite the champions' good form and the Italian believes he still has a future at Stamford Bridge.
"It's not crazy to think that the club can change," said the Italian.
"Every club has this possibility to change the manager at the end of the season if they want to change.
"I've tried to do my best. But the club has to check my job.
"If they consider my job good, I will stay. If they don't consider it good, they can change."