Dustin and I wanted to take a camping trip for spring break. With our work schedules being so rigid, we only managed to get two free days; so we decided to travel somewhere less than 200 miles away. Our choice was De Soto National Forest in Mississippi.
At start of trip, I drove, getting us to Wiggins, Mississippi with ease. I pulled into the ranger station to get trail maps and talk to the rangers who were just as eager to speak to us. (We were the only visitors to come by that day.) After looking at the map, Dustin and I decided to hike the Black Creek Trail in the Black Creek Wilderness portion of the forest. The Black Creek Trail, at nearly 42 miles, is Mississippi's longest trail, and the Black Creek Wilderness covers about 10.8 miles of the forest. From the ranger station in Wiggins, we took the 29 north to reach Janice Landing. 
Once we arrived there, we parked the car and strapped on our packs. We had a short hike down the road to the trailhead from there. Upon arrival, it seemed we had the trail to ourselves. This was a little different for me since I'm used to passing other hikers every mile or so and speaking. (It's one of the things I enjoy best.)
As we began our hike into the BCW, I realized I'd lost a basket for one of my trekking poles along the way. Luckily enough, the ground wasn't very muddy or soft. Continuing through the forest, we noticed that even though we'd covered ourselves in insect repellent a few minutes earlier, the mosquitoes found their way through. About a half-hour into the hike and through the dense forest, we stopped to reapply the spray, but "Oh, no!" It must have slipped out along the way too. We were beyond disappointed because never had we lost any essentials on a hike before.
I usually take tons of photos on trips like this, but my hands were busy fending off mosquitoes from time-to-time. After an hour or so, we'd suffered numerous mosquito bites and could no longer stand it. So we found a decent clearing to make camp and headed toward it. In about 15 minutes, our tent was ready, and we scooted in quickly to avoid letting in those pestering 'skeeters. Inside, it was a relief to not have to swat at them.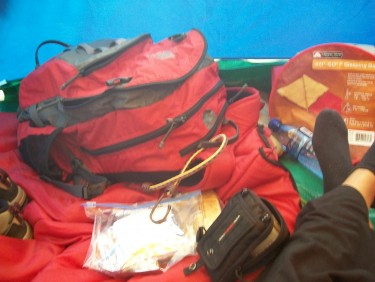 We rolled out the sleeping bags and ate any early dinner while listening to everything around us. Dustin fell asleep quickly, but I was restless for a while. As the sun went down, I listened to an increasing number of nocturnal sounds. A fox, an owl, rodents… and then a sound that frightened me stiff and broke Dustin's deep sleep. We heard several low growls or groans nearby. It sounded like a larger animal, but we were unable to identify it. Whatever it may have been, it only stayed for a couple of minutes before moving away. Dustin was able to fall asleep again, while I continued to listen to the animals; all but the growl was relaxing.
Around 3 a.m., it began to drizzle. I was thankful for the little rain because it thinned the warm air and made it easier to rest. Later in the morning, sparse raindrops still fell, and it was cool enough that the mosquitoes were not active yet. After a breakfast of granola bars and pop tarts, we packed everything inside the tent and broke camp. We knew it wouldn't be wise to spend another night without our insect repellant, so we headed back to the beginning. It was a rough but fun time. And hey, I managed to get some photos after all!
*Despite our mishaps, the Black Creek Wilderness is a beautiful place. My advice to anyone wanting to visit during warm weather would be to bring an extra bottle of insect repellent, or cover your arms and legs. Otherwise, I'd suggest planning your trip during the late fall or winter.