Aol Instant Messenger which is also known as AIM has several benefits. By far, it is the only chat machine that allows users to have animated skin for chat window, different musical alerts and a wide variety of icons for free. There is really not much need to be said about this great chat machine. Using it is so much fun. But even after all this, it carries some real security issues. Why America Online never took care of them is not known, but the truth is that if you do not stay careful about this chat machine you might become an easy target for annoying marketers, So what are those security issues?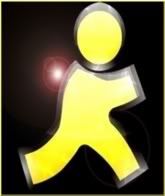 First of all, if someone ads you to their buddy list on AIM you will not get a message about it from AOL. Unfortunately, any marketer trying to target you can randomly choose your screen name to attack you with different ads in the form of chat script. Moreover, whoever will be doing this will not be a bot, but a real human being. 
Secondly, AIM does not have a clarified version of delete and block options. The truth is that deleting a buddy from the list will only help you get rid of his screen name, but he will still be able to see you online. Why? Because you have not really used the block button on him. Basically, because of this, on AIM you can seriously become a prey to your stalker ex friend. 
The last problem that AIM has is that its status is extremely public. There are actually sites out there which can help anyone check whether you are online or offline. This can be another thing that stalkers can use against you. Windows instant messenger's such status was also once visible on those sites. But Microsoft was clever enough to take care of it.  
So now what should you do about your AIM? Use it, but make sure that you do not go around posting your screen name everywhere. Otherwise, you might simply put yourself in useless trouble.
You may also like:
What No One Understands About Jordan Anthony Brown, The 13 Year Old Murderer
Humanoid Robots: Take a Look at The Ones Who Will Serve You
Laptop Review: Toshiba Satellite L505d-s5983
How I Found Out About All The Sex Offenders Living in My City