Who does not knew about the only Popstar princess in the Philippines, Sarah Asher Tua Geronimo? I think there are only few who does knew about her as a great singer, a versatile artist due to the fact that she is able to do well and excel in acting, dancing, modeling, hosting and even rapping.
Seven years ago, back when there were no young and fresh great singers of who can belt out songs of high notes, except of course Regine Velasquez and other well-known divas. As I was trying to say, no young singer has ever gotten the footsteps of these divas until Sarah Geronimo came out and stood as the very first winner of the reality singing show "Star for a Night". History followed where there spouted new batch of singers.
"The Star for a Night" Moment
It was such a very tight competition on these batch of singers scouted all over the country. Most of them can able to hit very high notes. Some of them are professionals and some of them are of very young age just like Sarah, who was just thirteen years of age at that time.
At the final moment, she was at par with one of the best voices in the competition, Mark Bautista who was the bet of the judges before the finals. Until the final night, where one of the judge Sharon Cuneta said that Sarah Geronimo's performance singing "To Love you More" of Celine Dion is incredibly an excellent performance.
She has so much awards in the field of music, hosting and movie awards. Recently, this year she was awarded as the youngest artist to receive the highest award from Aliw awards foundation as the "Entertainer of the Year". To add to that, in fact, with her two blockbuster movies with John Lloyd she has been named in two successive years as the "Box office Queen".
With this huge success, in her concerts and endorsements, it cannot be denied that nothing can stop Sarah Geronimo to soar even higher because a lot of people love her so much. There are new crops of singers today but no one can beat the one and only Sarah Geronimo, ultimate IDOL.
"Box-Office Hit' Movies
I intentionally separate her movies because I could not believe, she is the only one who have made beyond the 200 million mark gross revenue of the film together with her onscreen partner, John Lloyd Cruz. It started with pairing John Lloyd and Sarah in an episode in Maalaala Mo Kaya. From then on, they were spotted they have a chemistry together and the rest is history.
The 2008 film "A very special love" was her very first film where Sarah is the lead star and paired with John Lloyd. This movie became a blockbuster with around 180 million pesos in gross revenue that has edged more than millions than the tandem of Bea Alonzo and John Lloyd Cruz.
Following the huge success of their first movie and tandem, the 2009 film "You Changed My Life" is tagged as the Highest-grossing Filipino film of all time garnering around 240.44 Million pesos in gross revenue.
Today and Beyond
With her numerous awards and outstanding achievements after the "Star for a Night", Sarah Geronimo soars even higher. Her equally famous fans known as the "Popsters" are very supportive of her that is why she shines the most among the young and talented artists of her age group. She is considered as the most bankable artist due to the millions of revenues she brought to her mother station and talent management.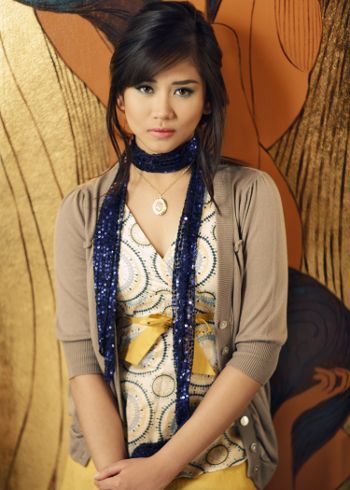 What does Sarah possess that most of the people get gaga of her? It's so simple. No young artist possess the charm that people see except in Sarah, a humble and simple person off cam but a very strong person when she's on stage. I could not mention anymore of her but people just love her so much because she's still keeping her feet on the ground despite her position at the top.
Sarah should be imbibed by the future and aspiring artists with her humble beginnings as well as what attitude should an artist possess.