youtube=http://www.youtube.com/watch?v=mTbpuQzMnxA
"I was bored and in my thinking zone" said local Utah Native Mark Holdman when asked where his idea came from. 
Mark has outdone the neighbour hood light competition by creating a spectacular light display set to the music of Amazing Grace. Braham's creation went viral after he posted his display on YouTube. Receiving over 1.5 Million views on YouTube alone and liked by over 3.9 Million Times on Facebook. 
This video is absolutely heart warming and fills everyones heart with Christmas spirit. I truly recommend sharing this video with all your friends and family and give the gift of a smile! Merry Christmas!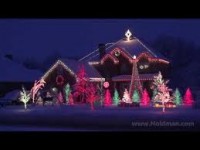 For more information including show times, history faqs and much more
Visit the Holdman Christmas website!
Amazing Grace
Writer: John Newton 1725-1807
Amazing grace, how sweet the sound
That sav'd a wretch like me!
I once was lost, but now am found,
Was blind, but now I see.
'Twas grace that taught my heart to fear,
And grace my fears reliev'd;
How precious did that grace appear,
The hour I first believ'd!
Thro' many dangers, toils and snares,
I have already come;
'Tis grace has brought me safe thus far,
And grace will lead me home.
The Lord has promis'd good to me,
His word my hope secures;
He will my shield and portion be,
As long as life endures.
Yes, when this flesh and heart shall fail,
And mortal life shall cease;
I shall possess, within the veil,
A life of joy and peace.
The earth shall soon dissolve like snow,
The sun forbear to shine;
But God, who call'd me here below,
Will be forever mine.
Amazing Grace Guitar Chords
The music sounds nice when played on guitar too. These are the usual "Amazing Grace" guitar chords:
D               G            D
Amazing grace! How sweet the sound
     D                   A
That saved a wretch like me!
  D                 G       D
I once was lost but now I'm found;
    

Bm

         D   A D
Was blind, but now I see.
Beginners can try with this simplified arrangement:

G                  C         G
Amazing Grace, how sweet the sound
                          D
That saved a wretch, like me
  G                  C       G
I once was lost, but now I'm found
               D     G
Was blind, but now I see