Swagbucks is very popular search and win website for the residents of USA, UK and Canada. One can earn Swagbucks(digital dollar) of the swagbucks community by doing offers, paid surveys, shopping, searching swagcodes etc.
Here, I am posting about how to redeem your swagbucks(points) for prizes. When I was newbie, I had faced this problem so want to help Swagbucks newbies. Here, is a visual guide with screen shots for redemption process on Swagbucks. You can see proof of payment from Swagbucks to prove its legitimation.
[1]  Login to your account ( if you are not a member than Click here to join Swagbucks)
[2] Take your cursor on "swagstore"or go to "Rewards". You will see 2 categories like swagstore and swagskates. Select Swagstore.
3] On the Left side, there is Categories. Select whatever you want, as my favorite is a gift card. If, you want Amazon Gift Card then select 10 th category that is "Gift and Reward Cards".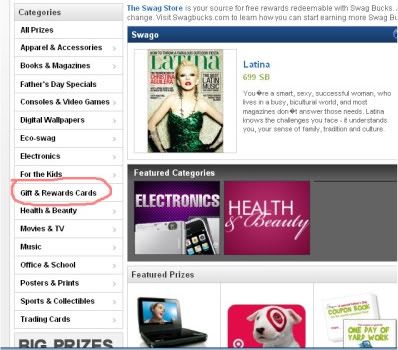 [4] Now you will be on gift cards page where you can see different stores GC. There are 3 pages. On the bottom of the first page or upper side of the 2nd page, you can see Amazon GC. Same as in the picture shown. There  is 3 Amazon GC-one is $5 Amazon.com E-Gift Card and others are $5 Amazon.ca e-Gift Certificate and £5 Amazon.co.uk e-Gift Card and you have to select 1st one that is $5 Amazon.com e-Gift Card.
[5] You will see this type of page and click on "Snag This"
[6] Now you will see page asking your address etc. Just fill up all information and click on "Submit Order"
[7] You will see ORDER VERIFICATION page same as seen in the picture.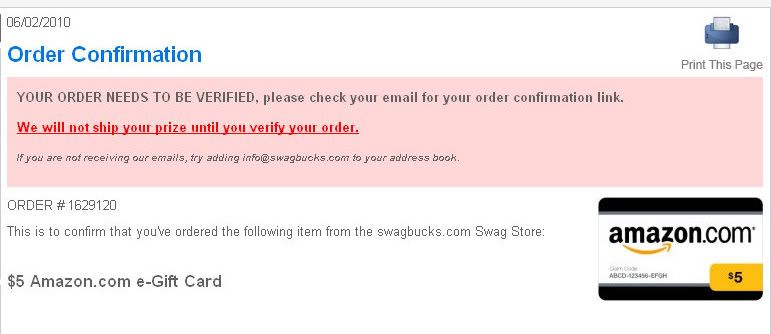 [8] Now go to your Inbox of login email, which you use for swagbucks and check email from Swag Bucks Prize.

[9] when you click on that email, you will see page as shown below. Click on "Verify this order". I have scratched my shipping address for privacy.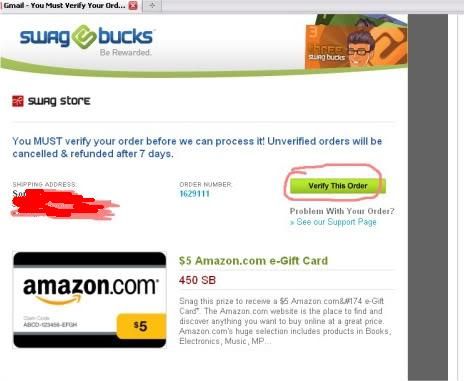 [10] Now your order is confirmed, and you will see the page as below.

11] At last if you want to check status of your gift card, go to Account Details [you need to scroll down near the number of Swagbucks on home page], Go to order status. You will see "Verified". On 16 th of each month you will see that order number"in my gift cards". Now  days, it comes eariler. You can see 9 Amazon gift card of $5 each as a proof of payment from Swagbucks. So it is legit website.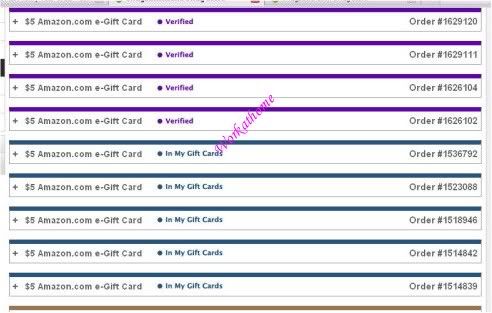 [12] To check your gift code you need to go to My account details, then click on My gift cards, it will ask your password, just type your password. You will see same as  in the picture. You need to copy that code. This is the proof of payment from Swagbucks. Till now I have earned more than $150. So you can start working.
List of legit websites with proof of payments – Visit www.workathomebysonali.com