In my last article about the history of klezmer music I dealt with its early development in the United States of America and looked briefly at the lives of Dave Tarras and Naftule Brandwein. In this posting I want to look briefly at the development of klezmer in the later 20th. century and examine a bit more closely some of the artists involved in more recent developments.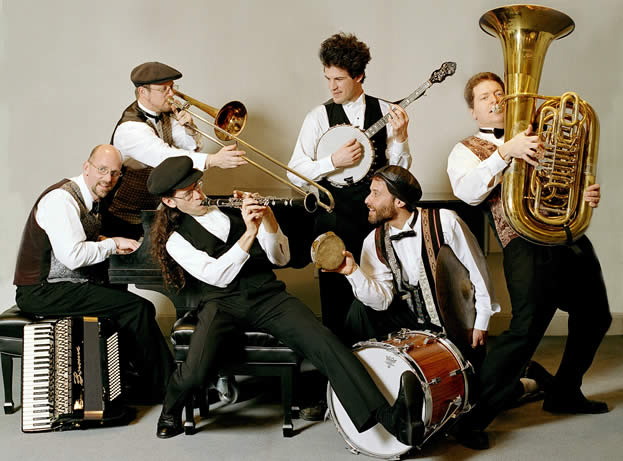 Shirim Klezmer
For the sake of convenience we can look at the revival of klezmer as taking place in two distinct stages. The first took place in the United States of America and Europe and it was led mainly by Giora Feidman, Zev Feldman, Andy Statman, The Klezmorim and the Klezmer Conservatory Band. These artists developed their repertoire from earlier recordings and surviving klezmer musicians in the United States. I want to look a bit closer at these artists and groups to place them in their proper context.
Giora Feidman
Giora Feidman was born in Buenos Aires, Argentina on 26th. March, 1936. He is renowned as an Argentinian klezmer music folklorist and clarinetist and he also plays the bass clarinet. His parents immigrated from Argentina to escape persecution as they were Bessarabians. Feidman was born into a family of klezmer musicians, his father, grandfather and great-grandfather were all involved in performing klezmer music for weddings, bar mitzvahs and holiday celebrations in the Jewish ghettos of Eastern Europe.
Giora Fiedman began his musical career as the youngest ever clarinetist to play with the Israel Philharmonic Orchestra. He left this orchestra in the early 1970s to embark on a solo career. He has subsequently performed as a soloist with the Berlin Symphony Orchestra and the Kronos Quartet. He also notably played the clarinet solos for the score to the film Schindler's List, which won an Academy Award. The themes from this film are often featured on radio stations such as Classic FM. He has collaborated and recorded with many musicians including Ariel Ramirez and the Moroccan Ali Hafid. Ariel Ramirez is an Argentinian classical composer, pianist and music director who was very influenced by Argentinian folk music.
______________
 
Zev Feldman
Walter Zev Feldman is a leading researcher in both Ottoman Turkish and Jewish music. He is also a versatile performer on the klezmer, dulcimer and cymbal (tsimbi). He has written a book entitled 'Music of the Ottoman Court: Makam, Composition and the Early Ottoman Instrumental Repertoire'. This was first published in Berlin in 1996 and is cuurently being translated into Turkish. He wrote the 'Ottoman Music' and 'Klezmer Music' articles for the New Groves Dictionary of Music and Musicians in 2001 as well as the Turkish, Chaghatay and Turkmen Literature articles for the Encyclopedia Brittanica.
Feldman is a part-time associate professor at Bar-Ilan University in Tel-Aviv and a fellow of the Centre for Jewish Musical Research at the Hebrew University in Jerusalem. He worked as co-editor of the Medimuses Project for Modal Music of the Mediterranean for the EnChordais School in Thessalonika, Greece, which was sponsored by the European Union (2002-05). In 2004 Feldman co-direceted the UNESCO application of the Mevlevi Dervishes as a Masterpiece of the Oral and intangible Heritage of Humanity. He more recently co-produced the CD Tanburi Isak with the Bezmara Ensemble of Istanbul for EnChordais. In 2003 he curated the concert series 'The Revival of Klezmer and Yiddish Music' in New York at the CUNY Graduate Centre. He was artistic director of Music and Dance of the Jewish Wedding at the 92nd. Street Y. The following season he served in the same capacity for the Y's titled Shared Sacred Space: Music of the Mystics.
Zev Feldman and Andy Statman
___________________________
Andy Statman
Andy Statman on clarinet and guitar
Andy Statman is a notable Klezmer clarinetist and a bluegrass and newgrass mandolinist. He first gained acclaim as a mandolinist in pioneering the blugerass bands Country Cookin' and Breakfast Special. Statman, as a Jew, soon became aware that bluegrass was not really his natural music and so he turned to Klezmer and traditional Jewish music. As he was by now a clarinetist as well as a mandolinist, he became involved in recording various Klezmer albums which became very influential in the Klezmer revival that began in the late 1970s.
Later on, in the 1990's, he started experimenting with Hassidic melodies, fusing bluegrass, klezmer and jazz music very effectively.
Andy Statman was taught to play clarinet by the legendary Klezmer clarinetist Dave Tarras who we considered in my earlier article. Dave Tarras bequeathed his clarinets to Andy Statman and so they obviously had a great rapport as musicians.
The Andy Statman Trio, which includes bassist Jim Whitney and drummer Larry Eagle, plays regularly at Derech Amuno Synagogue in Greenwich Village in New York City.
Although Andy Statman has had a huge influence on the development of both Bluegrass and Klezmer, he has remained a musician of great integrity and tends to remain out of the limelight. Every year he performs in a Klezmer concert series in which he teams up with Itzhak Perlman (of classical violin fame) and other big names in the Klezmer world. He was featured as a guest artist on Bela Fleck and the Flecktones holiday album 'Jingle all the way', released in 2008. Here he played both clarinet and mandolin; the album won the prize for Best Instrumental Album at the 51st. Grammy Awards. He also joined this group in concert on 10th. December, 2008 at the University of Buffalo Centre for the Arts and again on 16th. December, 2008 at Philadelphia's Kimmel Cenre.
YOU CAN FIND SOME FURTHER INTERESTING DETAILS ABOUT THE ANDY STATMAN TRIO AT THE LINK PROVIDED BELOW.
http://www.indypendent.org/2006/11/02/klezmer-bluegrass-andy-statman/
The Andy Statman Trio
____________________
The Klezmorim
L. to R.: Brian Wishnefsky, Kevin Linscott, John Raskin, David Julian Gray, Lev Liberman.
In 1975 a motley crew of street musicians from Berkeley, California was instrumental in giving a kick start to a worldwide klezmer revival. Their story, as told by their co-founder and saxophone player Lev Liberman, can be found via the following link.
David Skuse was the other person who helped found the new group. There are also details of the current band line up and their biographies on this website.
Founded in Berkeley, California in 1975, the Klezmorim origianlly featured strings, notably the virtuoso violin of David Skuse. Skuse left the band in 1977 and it then changed into a brass band led by Lev Liberman's saxophone and David Julian Gray's clarinet (Gray was also a founder member).
They then concentrated on trying to recreate the sounds of the early 20th. century klezmer bands, for which they achieved worldwide acclaim, receiving a Grammy nomination in 1983 and selling out concerts in North America and Europe throughout the 1980s. By 1986 all the original players had left and it was tuba player Donald Thornton, (he joined in 1979), who ensured that the Klezmorim continued to tour under their original name, featuring leading players of the klezmer revival. Lev Liberman took the new line-up on a successful tour of Europe in 2004 and there are continued rumours that they are due to release new recordings.
In my next article I hope to look at the work of the Klezmer Conservatory Band and some of the artists who featured in the second wave of the klezmer music revival. Meanwhile, you might like to listen to some of the artists I have mentioned in this article. You could try Last FM or Spotify who have quite good catalogues of klezmer music.