Ubuntu is one of the most popular distributions of Linux used today with over ten million users worldwide. Aircrack-ng is a network security auditing software used to test WEP and WPA encryption. We will be using the terminal to install aircrack-ng.
Assuming you have Ubuntu running and ready the first step is to allow Multiverse software installation in Ubuntu. To do so, click the top tool bar at the system menu and then pan to the administration menu and click on software sources.
Then make sure your multiverse box is marked in to allow for download of the aircrack suite. If it is already marked, unmark it and mark it again.
Make sure you have internet connectivity, for it is essential for the next step. (optional: type iwconfig in terminal and hit enter to check your Ethernet devices)
Select the close button, then select reload. It will then update your software list.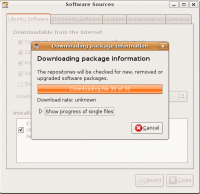 Once this is done go ahead and close the window. Then go to the Applications menu/Accessories and click the terminal application.
In the terminal command line type in "sudo apt-get install aircrack-ng" (with no quotes) then press enter. If you have a password setup for your user account it will ask for it. Simply type in your password and hit enter and it will then ask you to confirm, hit the Y key and then enter.
after that your aircrack-ng installation is complete.
This content is also published on Redgage
All works published are copywriten by Lex Martin (305lex).
Also checkout My article on tips for improving your wifi signal