Today Japanese shmup developer Cave has released a brand new trailer for its forthcoming iPhone/iPad game Do-Don-Pachi Resurrection. This trailer is not only shows off the gameplay, but introduces us to some new features such as the new play modes. Players can expect an arcade mode, a practice mode and an iPhone mode. Note that only owners of 3rd generation iPod touches (32/64GB), the iPhone 3Gs/4, or the iPad will be able to play the game.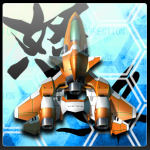 There are four play modes: iPhone Mode, Arcade Mode, Practice Mode, and SM Mode. Arcade Mode should be true to the original play style, iPhone Mode has an exclusive background music track, and Practice Mode allows you to hone your skills and try out different button customizations. SM Mode is a little different and offers up a brand new scoring challenge system with Slaughter and Menace status changes used to increase your score.
Players will also find the new "SM" scoring system. Built for iPhone, this system has players switch between "S," or "Slaughter" and "M," or "Menace" modes as they blast away. You can see a glimpse of this gameplay system in the latter half of the trailer. This new iPhone mode features a new scoring system and is tailored to gaming on the go. In addition to these two modes a third practice mode will be included. In this game players can spray bullets by touching their ship and spinning it with a finger. Cave developer "Masa KING" calls the attack "Spin-spin-pachi Resurrection!!" Users can play in arcade mode, practice mode, and iPhone mode. The game will be only be playable on the 3rd generation iPod touches, iPhone 3GS, iPhone 4, and the iPad.
Source: B4tea.com