When getting referrals for MYLOT, you will need to place a banner on your website to make it very easy for new members to join. Why not make a clickable banner with your referral link already coded into the banner.
First you need to find a banner you like. Right click on the banner you like to save the image to your computer. Choose your MyLot banners here – MyLot Banners
 Save at least 3 banners of the same size to make a good animated banner . I have selected the following banners to create my custom animated banner .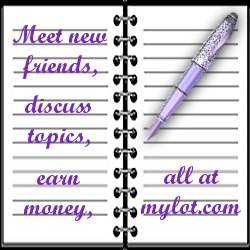 Now comes the part of Animating the banner such that these three images appear in a loop . For that visit : www.picasion.com
It is better to choose the speed as slow or the banner animation might move very fast .
After you click " Create Animation " , you will come to a page like this . This shows that your animation has been created .
 Now you have to induce your referral link into this banner .
So you have to modify the code given in the box for "HTML code for blog/website:"
So in the code modify 
.
with your referral link of MyLot . So it will come something like this  
So now the Referral Link is induced into your banner . So now you can use it anywhere you want .
 So here is the Sample banner that I had made for you .
( I have not put my referral link in the sample banner that I have created as Bukisa doesn't allow reflinks in its articles .)
Thus you have created your MyLot referral banner . Use it wisely and see referrals pour into your account .
HAPPY EARNING