10. Cyril Takayama
His Magic Life:
Cyril Takayama was born and raised in Hollywood, California. His father is a native Ryukyuan from Okinawa prefecture in Japan, while his mother is Moroccan–French, both of whom were beauticians. Cyril Takayama had an eventful yet troubled upbringing. A recent profile in Magic ("The Magazine for Magicians") describes him being expelled from school at 15 and then dropping out of school at the age of 16. Cyril's father, upset at his behavioral problems, sent him to Japan. While traveling he got off the plane during a stopover in Tokyo and never got back on. Cyril wound up busking on the streets of Shinjuku, and at times had so little money that he could afford just one meal a day. He attempted to contact Japan magic circles though they viewed him as an outsider. At the age of 17, Cyril met a rich Japanese businessman who saw his talent and employed him to work in his hotel paying him for each short range performance 4 to 5 days a week. For two years Cyril performed as a magician for weddings and parties. Within 2 months Cyril created his own stage magic show. Ito, impressed at Cyril's progress, sent Cyril to magic assemblies and competitions. In 1991, Cyril's dedication began to pay off. He was awarded a top prize by magic's international governing body, the International Federation of Magic Societies (FISM), as well in 1994. In 1992, he joined the International Brotherhood of Magicians. In 2001, he and his partner Jane won the Golden Lion Award at Siegfried and Roy's World Magic Seminar in Las Vegas. He is a member of the short-lived television series T.H.E.M.(2004). In 2007 he won first place in The Magic Woods Awards, Best Magician Category. -Wikipedia.org
9. David Devant
His Magic Life:
David Devant was an English  magician, shadowgraphist  and film exhibitor. He was born David Wighton in Holloway, London. He is regarded by magicians as the consummate exponent of suave and witty presentation of stage illusion. Devant is revered by magicians as an inventor and performer whose stature led to him being invited three times to participate in Royal Command Performances. He was droll, engaging and a master of grand illusion and platform magic. The wit of his patter marked a departure from the pseudo scientific style of earlier conjurors. This humour can still delight, as evidenced by stage lines he includes in the treatise he wrote with Nevil Maskelyne, Our Magic. It has been claimed that Queen Alexandra laughed aloud during Devant's "A Boy, Girl and Eggs" routine at the first of his Royal Command Performances, where an assistant from the audience was given the (losing) task of keeping track of a bewildering number of eggs plucked from an empty hat by the magician.  Among Devant's signature routines was his "Magic Kettle", which produced, on demand, any alcoholic beverage called for by the audience, and "Moth Mascot Moth", an instantaneous vanish of a winged assistant.  Milbourne Christopher in his textbook on conjuring history, Panorama of Magic, says that: "David Devant, most British magicians agree, was the master performer of his time". -Wikipedia.org
8. Ricky Jay
His Magic Life:
Jay was born in Brooklyn, New York  to a middle class Jewish family.[2]  His grandfather, Max Katz, was a well-to-do certified public accountant and amateur magician who introduced Jay to the profession.[3][4][5]  At least three of his one-man shows, Ricky Jay and His 52 Assistants, On the Stem, and A Rogue's Gallery were directed by David Mamet, who has also cast Jay in a number of his films. Jay has appeared in productions by other directors, notably Paul Thomas Anderson's Boogie Nights and Magnolia, as well as The Prestige.  Jay joined the cast and crew of the HBO western drama Deadwood as a guest star and writer for the first season in 2004. The series was created by David Milch and focused on a growing town in the American West. Jay played card sharp Eddie Sawyer, a dealer in the casino of ambitious newcomer Cy Tolliver. Jay wrote the epiosde "Jewel's Boot Is Made for Walking".[6] He left the series at the end of the first season.  He also played a henchman to villain Elliot Carver in the James Bond film Tomorrow Never Dies.  Until recently, Jay was listed in the Guinness Book of Records for throwing a playing card 190 ft at 90 miles per hour (140 km/h) (the current record is 216 feet (66 m) by Rick Smith, Jr.). Ricky Jay can throw a playing card into a watermelon rind (which he refers to as the "thick, pachydermatous outer melon layer" of "the most prodigious of household fruits") from ten paces. -Wikipedia.org
7. Siegfried and Roy
Their Magic Life:
Siegfried Fischbacher (born June 13, 1939, Rosenheim) and Roy Horn (born October 3, 1944, Nordenham) were born and grew up in Germany. They immigrated to the United States and became naturalized citizens.  Siegfried is a traditional magician (illusionist), while Roy grew up among exotic animals.  They met in 1959 when they both found work on a German ocean liner. Siegfried was a cabin steward and Roy a waiter. Siegfried began performing magic for some of the passengers, eventually being allowed to have his own show, with Roy as his assistant. Unknown to the crew, Roy had smuggled a cheetah named Chico aboard the vessel (Penn Jillette suggested on his radio show that it was an ocelot). Roy had come to know Chico from his frequent visits to the Bremen Zoo in Germany.  After developing their show they were given an engagement in Las Vegas. In 1972 they received an award for the best show of the year. In 1990 they were hired by Steve Wynn, the manager of The Mirage, for an annual guarantee of $57.5 million. In 2001, they signed a lifetime contract with the hotel. The duo has appeared in around 5,750 shows together, mostly at The Mirage. Their long-running illusion and magic act closed October 3, 2003 (Roy's birthday) after Roy was severely injured by Montecore, one of the act's tigers during a performance.  According to the 2000 Becky Celebrity 100 List, Siegfried & Roy were then the 9th-highest-paid celebrities in the U.S., coming in just behind motion picture producer and director Steven Spielberg. They have worked together for almost five decades, sharing a residence in Las Vegas, and for some time were a couple. In 1999 they took Darren Romeo as a protégé, sponsoring and training him. For their contribution to live theater performance, Siegfried & Roy were honored in 1999 with a star on the Hollywood Walk of Fame at 7060 Hollywood Boulevard.  In 2002, Siegfried & Roy were honored as Grand Marshals in the German-American Steuben Parade in New York City. Tens of thousands of fans greeted the magicians on Fifth Avenue and celebrated their German heritage. -Wikipedia.org
6. Lance Burton
His Magic Life:
Raised in Louisville, Kentucky, He first became interested in magic at the age of 5, when he was one of the volunteers at a magic show of Magician Harry Collins during a Christmas party at the Frito-Lay plant where his mother worked. The trick was The Miser's Dream, where Collins "pulled silver dollars out of the sky" and Burton's ears. The young Burton was fascinated, and a neighbor, hearing of his interest, gave him a book, Magic Made Easy, which her own (then-grown) children had used. It contained ten tricks, all of which young Burton quickly learned. His first performances were for neighborhood children, charging them a nickel each.  In 1982, Lance Burton competed at the international Fédération Internationale des Sociétés Magiques (FISM) competition in Lausanne, Switzerland, and won the "Grande Prix" prize, (the main event of the FISM competition) the youngest person to ever win the main event, and the first American to do so.  In 1986 he appeared in Nickelodeon's Halloween Special Mystery Magical Special.  In 1991, he produced, directed, and wrote his own show, which opened at the Hacienda Hotel and ran for five years.   In August 1994, Burton signed a 13-year contract (the longest contract given to any entertainer in Las Vegas history) with the Monte Carlo Resort in Las Vegas. The 1,274-seat Lance Burton Theater was built to Burton's specifications for his show, cost $27 million US, and opened on June 21, 1996. Entertainment Today magazine lists it as the #1 family magic act, during the 13-year run Burton was expected to earn more than $110 million USD. -Wikipedia.org
5. David Copperfield…Real Name: David Seth Kotkin
His Magic Life:
He was born on September 16, 1956, and is a world-famous American  illusionist, described by Forbes in 2006 as the most commercially successful magician in history. Best known for his combination of storytelling and illusion, Copperfield has so far sold 40 million tickets and grossed over $1 billion.resentation of stage illusion. Copperfield's career in television began in earnest when he was discovered by Joseph Cates, a producer of Broadway shows and television specials. Cates produced a magic special in 1977 on ABC called "The Magic of ABC" hosted by Copperfield, as well as several of the "The Magic of David Copperfield" specials on CBS. His illusions have included making the Statue of Liberty disappear, flying, levitating over the Grand Canyon, and walking through the Great Wall of China.  In 1996, Copperfield joined forces with Dean Koontz, Joyce Carol Oates, Ray Bradbury and others for David Copperfield's Tales of the Impossible, an anthology of original fiction set in the world of magic and illusion. A second volume was later published in 1997, called David Copperfield's Beyond Imagination. In addition to the 2 books, David also wrote an essay as part of the "This I Believe" series from NPR and the This I Believe, Inc. Also during 1996, in collaboration with Francis Ford Coppola, David Ives, and Eiko Ishioka,Copperfield's Broadway show "Dreams & Nightmares" broke box office records.  Copperfield notes that his role models were not magicians and that "My idols were Gene Kelly and Fred Astaire and Orson Welles and Walt Disney … they took their individual art forms and they moved people with them … I wanted to do the same thing with magic. I wanted to take magic and make it romantic and make it sexy and make it funny and make it goofy … all the different things that a songwriter gets to express or a filmmaker gets to express …."  -Wikipedia.org
4. Tony Slydini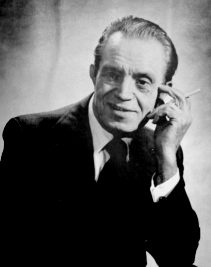 His Magic Life:
 Tony Slydini was born as Quintino Marucci in Foggia, Italy. He was the son of an amateur magician who encouraged him to pursue sleight of hand at an early age. Slydini was attracted to the psychological aspects of the art, which would later show itself in his magic in the form of precise and expert use of misdirection. He was also inspired by the relationship between the magician and his audience, which fueled his desire to be a close-up artist. While still young, Slydini and his family left Italy to live in Argentina. It was there that Slydini began to experiment more seriously with magic. He worked in South America's version of vaudeville  for a time, but soon the Great Depression hit and work became scarce. In 1930, he moved to New York City, landing a job in a museum on 42nd Street. From there, Slydini found work in carnivals and sideshows. On a visit with his sister in Boston, Slydini attracted the attention of an agent there, landing a job for $15 a day for a three-day show. His skill was apparent to those who saw him on those three days, including another agent who offered him another contract. This streak continued for some time: Slydini ended up performing in Boston for seven years. His style of close-up was something that had never been seen before: he was one of the first to show close-up magic as an art in itself rather than as a lead-in to bigger and grander illusions. Slydini's magic was impromptu: rather than follow a set sequence of tricks, he allowed his audience and the situation to dictate his show. Reportedly, Dick Cavett once asked Dai Vernon who could still fool him. His answer: "nobody but Slydini." -Wikipedia.org
3. Harry Houdini…Real Name: Erik Weisz
His Magic Life:
Harry Houdini was a Hungarian-American magician and escapologist, stunt performer, actor and film producer. He was also a skeptic who set out to expose frauds purporting to be supernatural  phenomena. He was born to a Jewish family in Budapest, Hungary. From 1907 on, however, Houdini would claim in interviews to have been born in Appleton, Wisconsin, on April 6, 1874. Houdini became widely known as "The Handcuff King." He toured England, Scotland, the Netherlands, Germany, France, and Russia. In each city, Houdini would challenge local police to restrain him with shackles and lock him in their jails. In many of these challenge escapes, Houdini would first be stripped nude and searched. In Moscow, Houdini escaped from a Siberian prison transport van. Houdini publicly stated that, had he been unable to free himself, he would have had to travel to Siberia, where the only key was kept.  From 1907 and throughout the 1910s, Houdini performed with great success in the United States. He would free himself from jails, handcuffs, chains, ropes, and straitjackets, often while hanging from a rope in plain sight of street audiences. Because of imitators and a dwindling audience, on January 25, 1908, Houdini put his "handcuff act" behind him and began escaping from a locked, water-filled milk can. The possibility of failure and death thrilled his audiences. Houdini also expanded his challenge escape act — in which he invited the public to devise contraptions to hold him — to include nailed packing crates (sometimes lowered into the water), riveted boilers, wet-sheets, mailbags, and even the belly of a Whale that washed ashore in Boston.  In 1912, Houdini introduced perhaps his most famous act, the Chinese Water Torture Cell, in which he was suspended upside-down in a locked glass-and-steel cabinet full to overflowing with water. The act required that Houdini hold his breath for more than three minutes. Houdini performed the escape for the rest of his career. Despite two Hollywood movies depicting Houdini dying in the Torture Cell, the escape had nothing to do with his demise. Harry Houdini died of peritonitis, secondary to a ruptured appendix. It has been speculated that Houdini was killed by a McGill University student, J. Gordon Whitehead, who delivered multiple blows to Houdini's abdomen while he was in Montreal, in order to test Houdini's claim that he was able to take a blow to the body above the waist without injury. -Wikipedia.org
2. Cardini…Real Name: Richard Valentine Pitchford
His Magic Life:
He was born on November 24, 1895 in the village of Mumbles, in south Wales. Some sources use the incorrect year of 1899. He joined the British Army during World War I where he passed time in the trenches by practicing card manipulations, which is where he honed his ability to perform card manipulations whilst wearing gloves which he is famous for. After being injured in battle, he continued to hone his magic skills in a hospital. In New York City, Cardini became an almost immediate success as audiences (and magicians) had never seen such an act. Cardini enhanced his performance by incorporating his magic tricks into a skit. Sleight of hand, gestures, and the appearance and disappearance of objects were all timed precisely and exactly coordinated to music.  He performed at The Palace, Radio City Music Hall, London Palladium, Copacabana and other prominent nightclubs and reviews, and also gave a command performance for the King of England in 1938.  He became president of the Magician's Guild in 1945 at the death of Theodore Hardeen. In 1957 at the age of 62 he appeared on one of the few magic television shows broadcast at that time, the Festival of Magic. In Disney's "Snow White" (1937) the mirror sequence, when not shortened, contains a few minutes of Cardini manipulating cards. -Wikipedia.org
1. Dai Vernon…Real Name: David Vernon

His Magic Life:
AKA "The Professor", was a Canadian magician. His expert sleight-of-hand technique and extensive knowledge garnered him universal respect among fellow magicians. Vernon first fell in love with magic when he was seven years old after his father took him to see a magic show. The first real magic book he ever owned was an early edition of perhaps the most famous card book of them all, The Expert at the Card Table, by S. W. Erdnase. By the time he was 13 he had memorized the contents of the book. He also had a famous encounter with another up-and-coming young magician from his town, Cliff Green, who asked Vernon, "What kind of magic do you do?" Vernon responded by asking the boy to name a card. Upon pulling a pack of cards from his pocket, Vernon turned over the top card of the deck to reveal the named card and replied to the speechless Green, "That's the kind of magic I do. What kind of magic do you do?"  Due to his extraordinary knowledge of, and skill at, sleight of hand, Vernon has long been affectionately known as The Professor. Harry Houdini (who in his early years billed himself as "The King of Kards") often boasted that if he saw a card trick performed three times in a row he would be able to figure it out. Vernon then showed Houdini a trick where he removed the top card of the deck and placed it in the middle, then turned over the top card to again reveal the original card. Houdini watched Vernon do the trick seven times, each time insisting that Vernon "do it again." Finally, Houdini's wife and Vernon's friends said, "Face it, Houdini, you're fooled."  He was famously under-credited for much of the work published in Jean Hugard and Frederick Braue's Expert Card Technique, though a later edition included an extra chapter which acknowledges Vernon's contributions. In fact, a huge portion of the sleight-of-hand had been discovered by Vernon over years of searching.  Vernon was among the most knowledgeable sleight of hand artists that ever lived and, with Ed Marlo, possibly the most influential card magician of the 20th century. Among magicians, he is credited with inventing or improving many standard close-up effects with cards, coins, and other small items. The "standard" Cups and balls routine is his, and his 6-ring "Symphony of the Rings" remains one of the most popular Chinese linking rings routines in use to this day.  -Wikipedia.org  
Can you imagine writing articles like this one for money? Sign-up with Bukisa.com and start making passive income.