Occurrences of stampedes in history have claimed thousands of lives, most often, lives of innocents.
A stampede is an act of mass impulse among crowd of people (and herd of animal) in which the crowd
collectively begins running with no clear direction or purpose. Here are the 10 most unforgettable incidents
of stampedes in history.
1. 1990 Al-Ma'aisim Tunnel Stampede


Image Source
On July 2, 1990, a stampede inside a pedestrian tunnel (Al-Ma'aisim tunnel) leading out from Mecca towards Mina
and the Plains of Arafat led to the deaths of 1,426 pilgrims.
2. 1896 Khodynka Tragedy


Image Source
In May 18, 1896 – a stampede known in history as Khodynka Tragedy killed 1,389 people and injured 1,300. It was a
mass panic that occurred on Khodynka Field in Moscow during the festivities following the coronation of the last Russian
emperor Nicholas II.
3. 2005 Baghdad Bridge Stampede


Image Source
The Baghdad Bridge Stampede occurred on August 31, 2005 where 1000 people were killed. It happened on Al-Aaimmah
Bridge, which crosses the Tigris River. It was the largest loss of life in Iraq in one day since the US-led invasion of 2003.
4. 1954 Kumbh Mela Stampede


Image Source
1954 Kumbh Mela stampede was a stampede that occurred in 1954 at Kumbha Mela on February 3, 1954 in Allahabad
in Uttar Pradesh state in India. More than 800 people died and over 100 were injured. The stampede was caused by failure
of crowd control measures because of presence of large number of politicians. This is one of worst stampedes in India.
5. 2006 Jamarat Bridge Stampede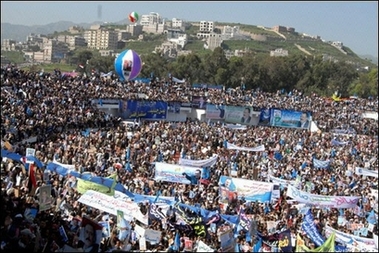 Image Source
In January 12, 2006 – 345 killed at Jamarat Bridge in Mecca during the stoning of the devil. This incident is in relation to
Day of Hajj pilgrimage.
6. 1994 Jamarat Bridge Stampede


Image Source
In May 1994 – 270 people were killed at Jamarat Bridge in Mecca during the stoning of the devil. This tragic incident is in
connection to the celebration of Day of Hajj.
7. 2005 Hindu Pilgrims Stampede


Image Source
In January, 2005 – 265 people were killed as Hindu pilgrims stampede near a remote temple in Maharahtra, India.
8. 2004 Jamarat Bridge Stampede


Image Source
In February 2004 – 251 people were killed at Jamarat Bridge in Mecca during the stoning of the devil. It was in relation to
the annual Day of Hajj.
9. 1883 Victoria Hall Disaster


Image Source
This infamous disaster that happened on June 16, 1883 killed over 180 out of 1,100 children's lives in Sunderland,
England when they stampeded down the stairs to collect gifts from the entertainers after the end of a variety show. The
Victoria Hall was a large concert hall on Toward Road.
At the end of the show an announcement was made that children with certain numbered tickets would be presented
with a prize upon exit. At the same time entertainers began distributing gifts from the stage to the children in the stalls.
Worried to be miss out on the treats, many of the 1,100 children in the gallery stampeded toward the staircase leading
downstairs. At the bottom of the staircase, the door had been opened inward and bolted in such a way as to leave only
a gap wide enough for one child to pass at a time. It is believed this was to ensure orderly checking of tickets. With few
accompanying adults to maintain order, the children surged down the stairs toward the door. Those at the front became
trapped, and were crushed by the weight of the crowd behind them.
10. 1943 Bethnal Green Incident


Image Source
On this incident that occurred in March 3, 1943 in Bethnal Green, 173 people were killed as people tried to get into an
air-raid shelter at Bethnal Green underground station, east London. Anti-aircraft fire reportedly frightened the crowd,
causing them to run for the shelter. When a woman carrying a baby tripped on the stairs, others fell over her, triggering
the crush.
Sometimes, scores of innocent lives are sacrificed or claimed for nothing but that's the sad reality of life. They happened
and will happen again. So we should always remember that where ever we are, presence of mind is very important.
For more articles in History see