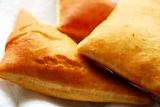 This recipes makes about 3 dozen.
This is a great recipe.  It can be used in many ways.  I personally love sopapillas, maybe too much.  But once you try them, you'll find yourself making them quite often.
INGREDIENTS:
Vegetable oil for frying, 1 1/3 cups of milk, 1/4 cup of shortening, 4 cups all-purpose flour, 1 Tablespoon baking powder, 2 teaspoons of salt.
DIRECTIONS:
Mix the baking powder, flour and salt in a bowl.  Cut in the shortening and then add the milk and mix it to make a soft dough.  Knead until it's smooth, about five minutes.  Cover and let it rest for 30 minutes.
After 30 minutes, divide the dough into 4 sections.  Keep one section out and cover the other three.  Roll out to a thickness of about 1/8 inch.  Cut into nine, 4 x 2 inch pieces.  Now cover the pieces while you do the same thing for the other 3 sections.
Heat 1 inch of oil in a heavy frying pan, or you can deep fry at 375º.  Fry one or two pieces at a time, turning only once, until brown and puffy, about 4 to 5 minutes.  Drain on paper towels.
You can make the sopaipillas sweet or spicy.  For sweet ones, dust with powdered sugar or break and fill with honey.  For spicy ones, dust with chili powder.  You can also fill them with refried beans, cheese, chili peppers, ground beef or chicken.