Book strategy – Hard, but true!
It's many times more difficult to sell a brilliant novel by a new author than it is to sell a rubbish novel by a popular author. An exceptional book by a new author must fight its way against enormous odds.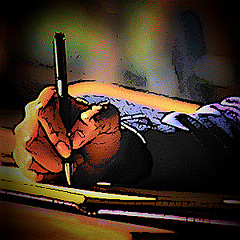 According to Homo Homini Lupus there were in excess of 600,000 published titles in 2009; an increase compared to 2008 when there were around 550,000. Most new authors fall by the wayside.
A book by a new author has to stand on it's own merit. A book by a popular author already has an awaiting readership that can drive it to the best-seller list.
Book strategy – What is significant?
As a first time writer a large part of your book's survival will depend on your capacity to publicize it yourself. Publishers are mostly too occupied with best selling authors to allocate adequate resources to your book's promotion.
So, you need to market your book. When planning your book promoting stategy, you have to understand that there is no way of knowing what will make a book successful and what will not. However, there are several significant qualifiers that go some way towards it:
The celebrity status of the author.
The uniqueness of the plot.
The extent of publicity from your publishing house.
How central the topic is to the reader.
So, let's look at each of these qualifiers in turn. Let's see how well a new writer and their precious new novel are placed in the sales stakes.
Book strategy – Celebrity status
Most new writers have no celebrity status, and to be honest, it hacks me off when they do. Okay, so I'm envious of them – I make no bones about it. In general, the writing from celebrities is rarely as good as that churned out by authors who've served an apprenticeship to the trade.
So, why should books from celebrities become hits when those from thousands of hard-working writers don't? Because readers flock to 'names' like moths to a candle.
Book strategy – Unique?
A unique plot? Well that's down to the author. I suppose we all feel our work is unique. But is it? Most stories are new voices on old themes – how many unique ideas are there for heaven's sake?
Book strategy – Publicity
Publicity! Don't make me laugh. What publishing house is going to pour an increasingly tight publicity budget onto an unknown writer? Publishers are in business to make money not become popular with writers. They try to boost company profits by pushing popular writers, but that's at the expense of new writers. There's a finite amount of money in the pot and it isn't coming your way.
Book strategy – Topic.
So I guess it's down to topic, and it's down to each of us to let readers know how topical our work is. We have to push whatever is in our book – make hay out of every strand of grass in it. Let readers know what's in there…. but how?
Book strategy #1 – Let's play tag
Well Amazon can help for a start. Use the 'Tag' function to guide readers. As part of your book stategy, let readers know about the little gems inside YOUR book, make sure they know whether it is a romantic suspense or a thriller.
The more times a tag is endorsed by unique visitors, the more Amazon will push it to the front when there's a search on it. Play the system, persuade dozens of your friends to click on the tags as well – Amazon will probably love you because it'll boost their profits as well as yours.
What else can a new author do to get 'out there'?
Book strategy #2 – Promotion
The only real way of getting ahead is by gradually increasing public awareness to what you're doing – by making as many people as you can, conscious of you and your book.
Contact the local radio – they're desperate to fill airtime, and love local talent – and an interview can work wonders for your sales.
Publish the first chapter or two, on one of the book sites such as BookBuzzr
Ask the local library if you can give a reading of your book – they'll probably jump at the chance.
Donate a book to a local charity raffle – it will stir interest and people might go out and buy it.
Have a book signing in as many places as you can – I even did one in a bar – but make sure you advertise the fact well in advance by printing out your own notices.
Use one of the free online news release services to tell the world that your book is available.
Contact the local newspaper. They're always on the lookout for newsworthy items. They'll generally jump at the opportunity to do an article and photo-shoot of you and your book.
Print bookmarks on 180gm card advertising your book. Give them out at every opportunity.
Ask one of the Amazon reviewers to give an impartial review of your book
Book strategy #3 – Be a star.
One of my pet hates, is the way that celebrities seem to be taking over the world of publishing. Publishing houses love celebrities. Even as a new book author, there's a ready-made audience for them. You can fight back by taking a leaf from them. Become well known yourself. You might not be able to get your face on the TV or in films, but as a major part of your book strategy, you can and should, become a presence on the Internet – it's free and very accessible.
It's never too late to start your book campaign, but you're best setting your stall out as soon as the publishers accept your book – and if possible, making your presence felt, even before your book is finished.
Let's get down to facts, as a book author, you're not really promoting a particular book, you're selling yourself. YOU are the brand that people will be buying. So, at the earliest opportunity become a presence on Facebook, MySpace and Twitter. Be friends with people. Let the world know you exist.
Use Google Alerts to track your appearances on the Internet and find out what works best for you. Identify and use key words or phrases that your potential readership uses. See what blogs and questions are being spawned on your subject.
ONLY 99 cents on Kindle
Book strategy #4 – Write articles.
Writing articles online is a valuable book strategy for generating interest. Write about something to do with your book – the area it's set in, the people involved, the emotional influence it engenders. Let the world know that you're an authority on it.
Be aware though, that people are tired of overtly promotional material. Think of what happens if you have a TV program recorded and it contains adverts. Like me, you probably skip the adverts. You don't skip an interesting program though. By writing articles that are interesting, you engender curiosity in your subject without advertising. This is REAL campaign promotion.
Book strategy #5 – Write a blog.
As an author, another book promoting strategy is to have a blog. In fact you MUST have your own blog, and you must post on the book blog as often as possible – twice a week at a minimum.
You really cannot afford to ignore blogs. Start as soon as you can, years before you publish your book if possible.
It can take up to 12 months to build a following on the book blog. Don't expect an immediate response. There are millions of blogs out there and you have to compete. However, in all honesty, most are rubbish. As a writer, you have a distinct advantage. You can comfort yourself that at least your work will be readable and interesting – it will won't it???
So, start putting your strategy together for book promoting together NOW. Plan your campaign using the Internet as your main thrust and you'll at least stand a chance.
—————————————————————————————–
Book Strategy – End of – Book Strategy