Bathroom remodeling can be an expensive endeavor but with a little paint and elbow grease, you can give your old bathroom a much needed face lift for a fraction of the cost.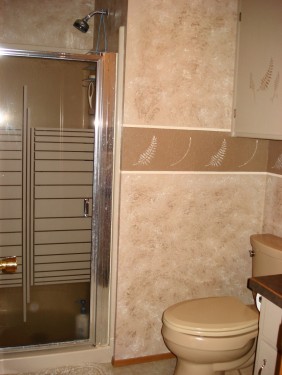 Using paint is the  most  inexpensive way to change the look of a room. Instead of painting a one color on the walls, try using a faux method like ragging or sponging to give a texture look. Buy 3 colors of coordinating paint and also you  try Murals and Faux Painting kit for less labor and work. The end result is beautiful and elegant.
Another idea is to paint a border with one of the coordinating paints and then use a stencil to create a pattern on the border with the second paint.
Instead of changing out your old wood cabinets, repaint them with one of the coordinating colors. You will have to sand them , prime them with latex enamel paint and then add the paint color. A nice accent is to use the same stencil pattern that was used on the wall, on the doors of the cabinets.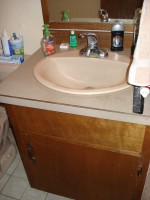 To change the formica sink top, just remove the sink, then the top and take it to a carpenter. They can remove the old formica and update it with a new formica that matches the colors of your bathroom.
Use Mr. Clean's magic eraser to remove old layers of soap scum from you tub, shower and sink. It works wonders and it's safe too. Car wax the fiberglass walls of the shower or tub to return it to it's original condition.
Just a few money saving tips and your bathroom will be completely transformed!