Morgan Freeman and his fellow convicts in The Shawshank Redemption (1994)
Stephen King is duly recognized as the master of horror. Since 1976, over 75 movie and TV adaptations from King's novels and short stories have made it to the big and small screen, with more on the way.
Here are ten outstanding Stephen King movies/TV productions that are sure to please "King Fear's" multitude of fans. And yes, like Motel 6, we'll leave the light on for you scaredy cats…
The Shawshank Redemption (Columbia, 1994)
Director Frank Darabont's The Shawshank Redemption owes its genesis to the Stephen King novella Rita Hayworth and Shawshank Redemption, which first appeared in his 1982 book Different Seasons. Tim Robbins and Morgan Freeman play a pair of cons doing slow, hard time at fictional Shawshank Prison in Maine. Robbins, in the role of the wrongly convicted wife killer Andy Dufresne, literally tunnels his way out of Shawshank, not only making it to freedom but setting up the corrupt warden who takes a mighty, biblical fall.
Memorable line: "I believe in two things: discipline and the Bible. Here you'll receive both. Put your trust in the Lord; your ass belongs to me. Welcome to Shawshank." – Bob Gunton as Warden Samuel Norton.
On DVD: The Shawshank Redemption Two-Disc Special Edition (Warner, 2004).
The Shining (Warner Bros., 1980)
Stanley Kubrick's The Shining is based on the 1977 Stephen King novel of the same name. Jack Nicholson plays Jack Torrance, a one-time teacher-turned-writer who brings his heavy personal baggage to Colorado's spooky Overlook Hotel. Tormented by alcoholism and the hotel's dead spirits, caretaker Jack turns on his wife (Shelley Duvall) and young son (Danny Lloyd), wielding a mean axe and mouthing the words "Heeeere's Johnny!" as he loses it to supernatural cabin fever.
Memorable line: "Wendy? Darling? Light of my life. I'm not gonna hurt ya. You didn't let me finish my sentence. I said, I'm not gonna hurt ya. I'm just going to bash your brains in." – Jack Nicholson as Jack Torrance.
On DVD: The Shining Two-Disc Special Edition (Warner, 2007).
Jack Nicholson in The Shining (1980)
Carrie (United Artists, 1976)
Brian De Palma's Carrie is based on Stephen King's 1974 debut novel of the same name. Sissy Spacek has the title role of Carrie White, whose religiously insane mother (Piper Laurie) and scheming classmates (Nancy Allen, John Travolta, et al.) push her over the age at the Bates High School senior prom. Here she unleashes her deadly telekinetic powers, making a shambles of the nicely decorated gymnasium and prematurely closing out the high school careers of her laughing tormentors.
Memorable line: "Pimples are the Lord's way of chastising you." – Piper Laurie as Margaret White.
On DVD: Carrie Special Edition (MGM, 2001).
Misery (Columbia, 1990)
Director Rob Reiner's Misery comes from the 1987 Stephen King novel of the same title. Kathy Bates, in a tour de force, Oscar-winning performance, plays Annie Wilkes, a discredited nurse and obsessed fan who holds her favorite author Paul Sheldon (James Caan) hostage following his unfortunate automobile accident. Caan as the injured Sheldon eventually breaks free of Crazy Annie's pharmaceutical nightmare, bashing her head in with an old manual typewriter and force feeding his latest Misery manuscript down her gagging throat.
Memorable line: "Misery is alive, Misery is alive! Oh, this whole house is going to be full of romance. Oooh, I am going to put on my Liberace records!" – Kathy Bates as Annie Wilkes.
On DVD: Misery (MGM, 2008).
Kathy Bates and James Caan in Misery (1990)
The Green Mile (Warner Bros., 1999)
Director/writer Frank Darabont's The Green Mile is based on the 1996 Stephen King serial novel of the same name. Tom Hanks plays Paul Edgecomb, who recounts his days as a prison guard at Louisiana's Cold Mountain Penitentiary during the Great Depression. Paul works "the green mile," that stretch of prison real estate where the condemned await their execution date with Old Sparky. One of the death row inmates is a towering black man named John Coffey (Michael Clarke Duncan), who possesses magical healing powers.
Memorable line: "Do you leave a light on after bedtime? Because I get a little scared in the dark sometimes. If it's a strange place." – Michael Clarke Duncan as John Coffey.
On DVD: The Green Mile Two-Disc Collection (Warner, 2006).
The Dead Zone (Paramount, 1983)
Director David Cronenberg's The Dead Zone derives its psychic energy from the 1979 Stephen King novel of the same name. Christopher Walken plays Johnny Smith, a young teacher who awakens from a five-year coma endowed with the gift of prophecy. After leading authorities to a serial killer working as a police officer, Johnny envisions a future where local congressman Greg Stillson (Martin Sheen) becomes president and leads the world to nuclear holocaust.
Memorable line: "You put your goddamn hand on that scanning screen, or I'll hack it off and put it on for you!" – Martin Sheen as President Greg Stillson to a five-star general who refuses to authenticate an unnecessary nuclear strike.
On DVD: The Dead Zone Special Collector's Edition (Paramount, 2006).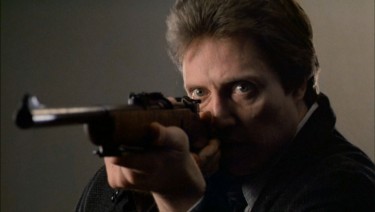 Christopher Walken in The Dead Zone (1983)
It (ABC-TV, 1990)
Director Tommy Lee Wallace's It is based on the 1986 Stephen King novel of the same name. Telecast in two parts, It stars Harry Anderson, Dennis Christopher, Richard Masur, Annette O'Toole, Tim Reid, John Ritter and Richard Thomas as members of The Losers Club, a group of children who are terrorized in Derry, Maine, by a supernatural creature known as Pennywise the Clown. Now grown up, six of the seven survivors confront their ancient childhood nemesis, with terrifying results.
Memorable line: "There's something terribly wrong here in Derry, and you know it!" – Tim Reid as Mike Hanlon.
On DVD: Stephen King's It (Warner, 2002).
Christine (Columbia Pictures, 1983)
Director John Carpenter's Christine is based on the 1983 Stephen King novel of the same title. Keith Gordon stars as pimply high school nerd Arnie Cunningham, whose purchase of a haunted 1958 Plymouth Fury named Christine transforms his life. Christine does what Clearasil can't, clearing up Arnie's complexion and hooking him up with high school glamour girl Leigh Cabot (Alexandra Paul).
Memorable line: "The kid's dead, Arnie, they had to scrape his legs up with a shovel." – Harry Dean Stanton as Detective Rudolph Junkins.
On DVD: Christine Special Edition (Sony, 2004).
Firestarter (Universal, 1984)
Director Richard Lester's Firestarter comes from the combustible 1980 Stephen King novel of the same name. Drew Barrymore plays Charlie McGee, a young girl born with pyrokinetic abilities. Charlie's parents, Andy and Vicky McGee (David Keith, Heather Locklear), had participated in a medical experiment while in college, resulting in their daughter's genetic ability to start fires at will. A secret government agency known as "The Shop" has a keen interest in Charlie, with two of their operatives, John Rainbird (George C. Scott) and Captain Hollister (Martin Sheen), in hot pursuit.
Memorable line: "Suppose we have a child here who, someday, is capable of creating a nuclear explosion simply by the power of her will?" – Freddie Jones as Dr. Joseph Wanless.
On DVD: Firestarter Movie Collection (Universal, 2004).
Drew Barrymore in Firestarter (1984)
Salem's Lot (CBS-TV, 1979)
Director Tobe Hooper's Salem Lot derives its life's blood from the 1975 Stephen King novel of the same name. A two-part television miniseries, Salem's Lot features David Soul as Ben Mears, a novelist who returns to his New England roots where he takes an interest in the old Marsten House. Now running loose in the town is Kurt Barlow (Reggie Nalder), an ancient vampire who preys on the unsuspecting good townsfolk of Salem's Lot, turning them into his followers.
Memorable line: "You'll enjoy Mr. Barlow. And he'll enjoy you." – James Mason as Richard K. Straker.
On DVD: Salem's Lot (Warner, 1999).
Additional Reading