Known as a universal classic, a color no time and season can dictate – – – a single white dress can stretch your wardrobe amazingly on how it can easily team up with most of your existing accessories and footwear.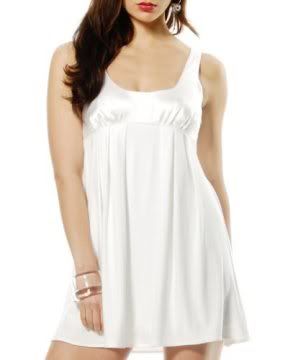 Here are a few tips on how to create varying looks from one pretty white dress:
White and Gold. Gold is said to be the best compliment to go with white. No matter if it's the simplest white summer dress or white formals, teaming it up with a bold necklace and bracelet in gold, slip on that not-so-flashy gold strappy sandals – – – and you instantly create the most fabulous ensemble.
White and Black. A strong color known to highlight white quite beautifully, black together with its opposing hue, amazingly translates magnificence and class. Commonly, a black diagonal contrast in a white dress works a lot of wonders. But though hard to pull, many would still take the plunge and go for black and white polka dots and stripes. But for plain whites in particular, accessorizing it with black overcoats or footwear is subtle move that creates a striking result.
White and Silver. A very sophisticated combination, exuding both youthfulness and sex appeal. Since silver is never a loud tone, wearing white and silver together is a great look to take from your daytime rendezvous and transition gracefully to special evenings. A silver clutch and sandals is truly feminine and eye-catching.
White and Pastels. This translates a very fresh and new look. Best for summer and daytime, but could be equally appropriate for afternoon and evening affairs. Pastels resemble youthfulness and wearing the tone greatly softens the wearer's age.
White and Earth Colors. This is quite diverse to categorize, but probably all color palettes have earth tones. Throwing in a light forest green scarf or a fabulous beige hat with your white dress creates quite a stunning entirety. This combination if often more associated with business and more formal functions.
The versatility of a white dress makes the trend fun and easy to wear. What's more, it's natural allure and sweet appeal makes it an unmistakable choice from your simplest to the most elaborate affairs. Continued to be embraced by women of all ages and style, a white dress is indeed living up to its name as a timeless classic.