Most of the people are very much familiar with almost all microsoft technologies and products. Espically those we use in everyday life such as Internet Explorer, Outlook Express etc, etc. But still many are available who does not know about some features of those products and this is may be because of less time to explore those products.
Many time I come across many people in my current organization as well as in my past organization who does not know how to take backup of the mails or how we can store selected mail from Microsoft Exchange server to the Local Machine Data file in Microsoft Outlook Express.
I think there are many who still don't know how to do it.. this is may be because they don't explore the software/product that they use in daily life. 🙂 No problem.. I am here to help those all people who would like to know or will need this information in future.
I hope they will reach to my article when ever they need any help regarding the Microsoft Outlook Express.
Here are the steps which will guide you to take backup of your mails from Exchange server to Local machine.
Steps:
1. If your Outlook is opened then goto Tools menu and select "Options…" (Last menu Option)
2. When you will click on this "Option…" menu, you will get one new window as shown below.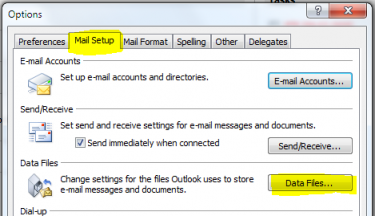 so from this window, go to "Mail Setup" tab and then click "Data Files…" Button shown on the above image.
3. When you will click on "Data files…" Button, again one more dialog box/window called "Account Settings" will come up in front of you which is as shown in the below snapshot.
4. Click on "Add.." Button and you will see one more dialog box as shown below.
Select any one from above list and then click OK button. After that it will ask you to specify Location of the Data file in your machine and name.
Specify any name and Location of the file & save it.
5. Now its over, close all windows and go back to your outlook. you will see one more data folder added to your outlook with name "Personal Folder" as shown in below snapshot.
Here you go, now feel free to move any mails you want from mail server folder to your personal Folder. Drag and Drop mail and Folders to new personal Folder.
But I recommend not to move important files to local machine because what if your mahcine will crash and you won't recovere files from HDD. In this case data on server will be safe.
I hope you will like this Tutorial. Thank!!