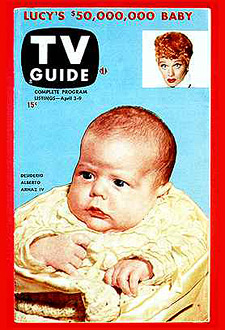 Walter Annenberg and TV Guide History
TV Guide was the brainchild of Walter Annenberg (1908-2002). Inheriting the family publishing business from his father, Annenberg set out to establish a national television magazine that would feature program listings for each city, along with TV-related articles and columns.
Annenberg and his Triangle Publications, Inc. soon realized their dream, with the first issue of national TV Guide debuting on April 3, 1953. Initially distributed in only ten metropolitan areas – New York City, Boston, Washington-Baltimore, Chicago, Philadelphia, Minneapolis, Cincinnati, Los Angeles, Davenport (Iowa) and Wilkes-Barre (Pennsylvania) – TV Guide quickly expanded its publishing wings, eventually becoming one of the most widely-read magazines in the United States.
TV Guide's Ten Most Valuable Issues
Although there is some lively debate on the subject, the following TV Guide editions are often recognized as the most popular and valuable in the field.
1. Lucy's $50,000,000 Baby, April 3, 1953
This is the famous Vol. 1, No. 1 featuring Lucille Ball and her new baby, Desiderio Alberto Arnaz IV – or Desi Arnaz Jr. – on the cover. TV Guide printed 1,560,000 copies of this premiere edition, with individual copies selling for 15 cents at the newsstand. Find one of these Lucy "babies" in near mint condition and it could be worth nearly $2,000.
2. George Reeves as Superman, September 25, 1953
This "Man and Superman" issue features TV's Man of Steel, George Reeves, gracing the cover. A near mint example could sell for as much as $1,000.
3. Elvis Presley, September 8, 1956
The King of Rock and Roll, whose Part One of his life story is featured inside, graces the cover of this beauty. Elvis fans get "all shook up" over this issue, sometimes shelling out $300-350 for a near pristine edition.
4. Howdy Doody and Buffalo Bob Smith, June 25, 1954
The two principal stars – the former a marionette, the latter a real live person – from the iconic TV children's show Howdy Doody (1947-60) adorn the cover. Examples in top condition can sell for around $250.
5. Guy Williams as Zorro, April 26, 1958
The famous masked avenger from Walt Disney's Zorro (1957-59), as expertly photographed by Dave Preston, makes his famous Z mark on the cover. The value for a near mint copy ranges from $200-250.
6. Roy Rogers, July 17, 1954
The star of NBC-TV's The Roy Rogers Show (1951-57) appears on the cover. TV western buffs love this one, with examples in top condition sometimes hitting the $200 mark.
7. Walt Disney and Friends, October 23, 1954
The legendary animator appears on the cover with studio friends Mickey Mouse, Donald Duck, Pluto, et al. An issue in near mint condition is valued at $150-175.
8. Star Trek, March 4, 1967
William Shatner (Captain Kirk) and Leonard Nimoy (Mr. Spock) garner the cover treatment for NBC-TV's science fiction classic Star Trek (1966-69). Some editions in outstanding condition have been known to sell for as much as $175.
9. Adam West as Batman, March 26, 1966
Famed illustrator Roy Lichtenstein executed this cover featuring Adam West from ABC-TV's Batman (1966-68). POW! This one can go for as much as $170 in top condition.
10. Steve McQueen from Wanted – Dead or Alive, May 30, 1959
Steve McQueen, as bounty hunter Josh Randall, gives a tip of the cowboy hat from his 1958-61 TV western series. Cool McQueen fans dig this issue, sometimes shelling out $120 or more for examples in near mint condition.
Other $100-Plus Collectible TV Guide Covers
Lucy and Desi, July 17, 1953
Dean Martin and Jerry Lewis, August 14, 1954
Jackie Gleason and Audrey Meadows of The Honeymooners, May 21, 1955
Groucho Marx, August 27, 1955
Fred Flintstone, June 13, 1964