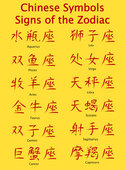 The Year of the Tiger begins on February 14th 2010. What can Goats expect in the Year of the Tiger?
This is the Chinese horoscope for people born in the years: 1907, 1919, 1931, 1943, 1955, 1967, 1979, 1991.
I feel as if the start of the year also coincides with the start of something new in your life.   This could have something to do with your career – in fact I think that this is highly likely – or you may be thinking about starting a new hobby or study project.  Whatever the area, your horoscope indicates that this is the time when new projects are being set underway.
Expect a complex year ahead but this is not a bad thing. All the problems and riddles you have to resolve will be teaching you many lessons. You will find the mental discipline to work out complicated issues in your mind and the persistence to keep working on a problem until you find a solution.
During the Spring, relationships will be interesting and romance is likely to be passionate and intense. When you experience anything new, first impressions will be great and you can rely on your instincts. If you are thinking of buying a new home, you might choose a one that is in excellent structural condition even if on the outside it looks a little run down. This gives you a project to work on that all the family will enjoy.
July is when life gets exciting. Lots of things are happening now and you will be widening your social circle. You've always been sociable and community-minded and this is a great time of the year to get involved with group activities. Fund-raising exercises are also likely to go well now. You aren't a trivial person and you will like to feel you are making a difference to other people's lives through your hard working efforts.
You might expect the autumn to be a lucky time for you. Even so throughout the year of the Tiger financial and work matters should be handled with care.
In legal and property affairs too, it will pay to be extra careful. There seems to be a lot of deals and transactions going on during the latter half of the year and some of these will effect your future in quite a big way. 
You will feel very sure about what you are doing but it never does any harm to double-check everything.  And to be absolutely certain that you're aware of all the small-print, before signing legal documents.