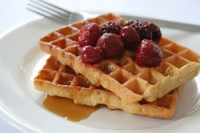 Delicious Homemade Waffles Recipe
Ever since I learned how to make my own waffles, I do not buy the frozen packaged waffles anymore.  It only takes a few minutes to make the waffle batter. This waffles recipe is delicious and it's a favorite in our family.  I hope you enjoy it too!
Ingredients:
1 cup flour
2 T. sugar
1 ½ tsp baking powder
¼ tsp salt
1 egg
1 cup milk
2 T. melted butter
Method To Make The Waffles:

Preheat waffle maker.
Mix the first 4 dry ingredients – flour, sugar, baking powder and salt.
In another bowl, whisk the egg, then add in the milk and melted butter.
Add the liquid mixture to the dry mixture all at once.  Stir until just combined.  Mixture should be lumpy.
Use measuring cup to pour batter into the waffle maker.  Depending on the size of your waffle maker, test to see which measuring cup works best.  Once you've found out the right amount of batter for your waffle maker, then you can always use that same measuring cup to get even results.
Serve with berries, maple syrup or any of your favorite syrup and toppings.
Enjoy your own homemade delicious waffles!
Tips

For healthier waffles use half cup of white flour and half cup of whole wheat flour.
These waffles freeze perfectly.  Double the recipe to make a big batch and freeze some.  To heat them up just put the waffles in the toaster or toaster oven.
Would you like to write articles like this and earn extra money?
C'mon and join me at Bukisa: http://www.bukisa.com/join/17553
It's fun!
Moist Chocolate Cupcakes Recipe
How to Make Polvoron: Firm, Not Crumbly
The Best Carrot Cupcake Recipe
Five Quick and Easy Philippine Desserts
The Best Cookie Recipe Websites
32 Tips and Ideas For Healthy Meals
The BEST Chewy Chocolate Chip Cookies Ever!
Creamy Chicken Carbonara Recipe
Fast and Delicious Chow Mein Noodles
How to Make Your Own Healthy and Delicious Popcorn
Easy and Delicious Potato Salad Recipe!
Join Bukisa now: http://www.bukisa.com/join/17553