WARNING! Top 10 things stolen during a common cardboard box move.
Whether it be your movers, day laborers working for the moving company or strangers lurking around your stuff during transit, the possibility of having some of your property stolen during your move can happen if you're not proactive, prepared and protected. 
Most thieves are not tempted or interested in stealing large, difficult to move, heavy or "hard to sell" items like chairs, tables or china cabinets that are easily traceable back to the original owner. Books, CD's and smaller items are not worth the hassle or resale value on the street, swap meet or e-bay when stolen, so you don't have to worry about these items either. Some items are just not worth stealing and have very little street resale value.
But, there are some special items that just aren't safe to load onto your average moving truck, regardless of the movers local reputation or your comfort level. Think of it this way, if you remove the cookie from the cookie jar, then you'll remove the potential for theft. Most movers are reputable and can be reviewed at www.movingscams.com before being hired to safely move your property.
With over 80,000 deliveries completed at Rent A Green Box, we have heard some horror stories, interviewed countless police officers, spoken to hundreds of insurance agents and taken advise from the best loss prevention specialists in the nation. We have taken all of their invaluable information plus our in the trench experience to develop, refine and compile this "Top 10" anti theft list for you and your family to review and consider before your next move.
1.) Medicine Cabinet Contents- Medicine is most commonly stolen, especially prescription drugs that sell for big money on the streets and should be well protected. The average pain pill can sell for up to five dollars on the street and expensive perfume is impossible to trace when stolen.
Action: Pack your prescription medication in one box that you will hand carry to your new residence. If you have an extra suitcase, it's best to use one piece of luggage to transport your most valuable items. Make sure that you don't check this luggage when traveling. It should be able to fit in the overhead compartment on your airline carrier. If traveling by car, keep this with you at all times and take it to your hotel room with your other luggage. Do not leave this in your car overnight as a packed car is always a target of local thieves.
2.) Personal/Financial Info- This critical information includes bank statements, stock and bond investments, social security numbers, and anything that has your personal information. Specific information like your date of birth, social security number and one credit card statement can be combined and easily be sold on the street for up to $1,000.00 dollars. The problem with identity theft is that it's very hard to catch the thieves and it will take countless hours and effort to correct your credit profile from the 3 major credit reporting agencies http://www.equifax.com/, http://www.truecredit.com/, http://www.freecreditreport.com/.
Action: First, contact all of your credit card companies and inform them that you have a new address and specific moving date. Request that they verify any credit requests with you on the phone or in writing. You must say " Do not process any requests without my permission". Then, contact the U.S. Post Office and request that your forwarded mail is held at the new post office. You will need to bring proper identification and proof that you reside at the new location ( like a rental contract or escrow paperwork is usually accepted) to retrieve your mail. Send out a simple e-mail to all of your friends and family that you have a new address. After 90 days, check your credit profile to make sure that no one has tampered with your credit and verify that all information is up to date and current. This is also a great time to clean up your credit for old inquiries or any other issues that are not correct on your profile. When the dust settles, you will have the piece of mind that you are not the victim of this hard to unwind crime.
3.) Trading Cards- Baseball cards and any sports trading cards can be very valuable and extremely hard to trace if lost or stolen. These are typically stored in large, heavy and old cardboard boxes (typically produce boxes from the 80's). These stolen collectables will end up being sold at swap meets, online specialty websites like e-bay, or at a local collectables convention. Note, it's impossible to track these items down when stolen, so it's best to prevent theft in the first place.
Action: Remove the temptation and place this box with your valuables when moving these items over to the new residence. Mark the box "family pictures" and triple tape the box. This will deter any mover from opening your box. If you have more than one box, label them "family pictures 1/3, 2/3 and 3/3" to create a set of boxes and keep them together during the move. The weight of pictures and baseball cards are close enough to trick the craftiest thief. Make sure that you place these in a dry and safe place at your new location.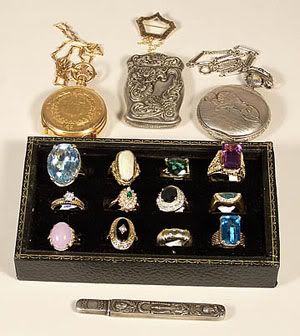 4.) Jewelry- Gold, silver, and precious stones are worth big bucks on the street and can easily be slipped into a pocket on move day. It's best to merge these items with your medicine cabinet and place these items in your carry on luggage. Let the security know that you are moving if they question you about the amount of jewelry packed in your carry on bags. Never check this bag at the airport. It must be a carry on bag!
Action: If you have a lot of precious jewelry in the house, make sure that it's insured. If your moving within 50 miles, contact a local bank and request a monthly rental on a safe deposit box. Place your valuable items in this box for safe keeping during your move. It's better to be safe than sorry. If you're not comfortable moving them or traveling with these items, there's a number of firms that specialize in transporting your valuables from locally and state to sate. Here's a few services for you to review: http://www.brinksinc.com/ and https://mmyh.com/
5.) Small collectible items- Thieves know that collectors are willing to pay high prices for these hard to find and in demand collectables. The Beatles and famous rock band memorabilia, as well as Disneyland items are always in demand.
Action: Place these in a small box labeled " kids toys " and triple tape the box to prevent any tampering with the contents. Also, make sure that you put these aside and move these over to the new residence to prevent any issues in transit. Place these items in a dry and safe place in your new residence.
6.) China and Crystal- Although these objects seem hard to steal, we see these objects stolen all the time because of their worth. Again, a lot of these items are no longer in production and become more valuable over time.
Action: Move these items over by yourself and make sure that you have wrapped each item properly with the correct eco friendly packing materials like http://earthfriendlymoving.com/greenbox/recopack/
7.) Sterling Silver- Objects such as an expensive set of silverware, chains, or bowls are often of value and stolen out of your moving boxes.
Action: Move these items over by yourself and make sure that you have wrapped each item properly and with the correct eco friendly packing materials like http://earthfriendlymoving.com/greenbox/recopack/
8.) Modern electrical devices- These are often easy to discover missing because they are of objects you most likely use often and value highly. However these objects are stolen constantly like T.V's and radios that someone can easily slip in a van and drive off with.
Action: It's best to place all of the small devices in one box and label the box- "household appliances" and triple wrap this box to prevent tampering with the contents. Place this aside and if possible move this in your own car on moving day. Make sure to pack the cords in the same box to prevent misplacement during transport.
9.) Persian rugs- These are very expensive and sell for high prices and are often slipped into vans and are missing on your arrival.
Action: Most rugs are very hard to handle due to their weight and size. So, make sure that these are loaded first on the truck with your other items in front of the truck to deter theft. Also, make sure that you itemize this item with your insurance carrier and have current pictures and all of the proper paper work in case of damage during the move. The last bit of advice is that most movers will wrap your expensive rugs with protective blanks and it might cost more, but it's worth it to prevent any stains caused by leaky boxes in transit.
10.) Sports equipment- Such as surfboards, kayaks, high end bicycles, and climbing gear are coveted objects for kids in the neighborhood as well as thieves.
Action: If possible, transport all of these sport related items to your new residence. If this is not an option, tag and number each item as sport #1, #2 and make sure that you write down the final number and let your mover know that you have 23 sport items and count these when they come off the truck.
Being proactive, prepared and protected during your move takes extra effort, but it's worth it to prevent any issues on your move day. When you arrive to your new place, it's best to locate on closet or room without windows and with a good door lock and place all of these valuables behind a locked and closed door during your move. This way, it take the temptation out of the process and you''l be glad after the move that you'll have you property safe and sound in the comfort of your new home!
Good luck on your move from all of us at Rent A Green Box!