Adapted from my original article How to Record and Edit Video on the iPhone.
One of the new (and somehow most overlooked) features on the iPhone is the ability to shoot video! Under the right circumstances, it's actually a pretty good camera.  It encodes 640×480 h.264 MOV files at 3500kbps, and depending on your lighting will shoot at a framerate of 15fps or 30fps. The iPhone will also let you edit the video! This tutorial will show you how to shoot, edit, and upload YouTube when you're done!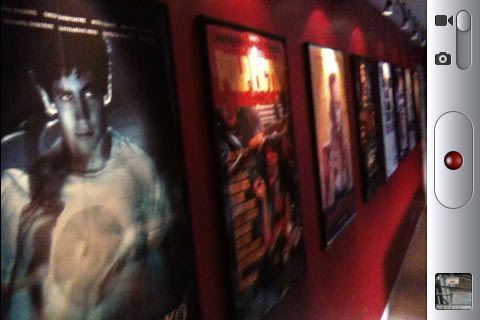 Step 1.  Tap the Camera icon on your iPhone to bring up the photo camera. In the corner there's a small photo/video slider.  Move it to the video position to enter iPhone video mode.
Step 2. Getting a good picture on the new iPhone is a lot easier than the old iPhone.  Tap a part of the picture to select a focal point. The iPhone will automatically set your exposure, focus, and white balance.   If the picture is coming out over exposed, try taping the lighter parts of the picture near the focal point you're aiming for.
Step 3. Make sure your iPhone is in landscape mode (wider than taller) and tap the record button to the right.  While the phone will shoot in portrait mode, your video will look ridiculous when you finish and everyone will make fun of you.  Once you hit record, you'll notice a timer appears in the corner.
Step 4. Tap the record button again to stop recording the video. The iPhone will save the video. Tap the thumbnail in the corner to bring the gallery up, and tap your video to bring up the editor screen.  From here you can shorten the timeline from either side by dragging your finger across it (known as scrubbing).  Once you've set the desired length, tap the "Trim" button in the corner of the iPhone to save your changes.
Step 5. You can tap the play button in the center of the iPhone to preview your video.  If you like what you see, you can tap the "Send" button in the corner to bring up a few sharing options.  This menu will allow you to email the video to someone, or tap a button to send it directly to YouTube!
Additional Tips
While it's cool that the iPhone has a "video editing" feature, you can import your video into iMovie, Final Cut Pro, or even Windows Movie Marker to do more advanced editing.
Unlike the iPhone, Apple's desktop editing software includes a great feature to stabilize your shaky video.