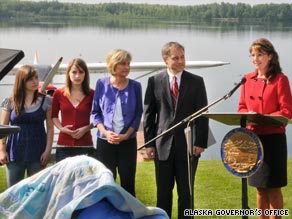 PALIN RESIGNS! Yes, you read it right. Alaska Governor Sarah Palin's jaw dropping announcement shocked the political world Friday when she announced she's resigning as Alaska's governor this month. And while she did not discuss specific future plans, she said that she was "determined to take the right path for Alaska even though it is unconventional and it is not so comfortable." She has a year-and-a-half to go in her term.
"People who know me know that besides faith and family, nothing's more important to me than our beloved Alaska," Palin said in an announcement from her home in Wasilla. "Serving her people is the greatest honor I could imagine."
Palin added in a statement that she was "Once I decided not to run for re-election, I also felt that to embrace the conventional lame duck status in this particular climate would just be another dose of politics as usual, something I campaigned against and will always oppose."
Palin used a sports analogy to explain her decision: "I know when to pass the ball."
Palin said she was transferring authority to Lt. Gov. Sean Parnell, who will be sworn on July 26 at the Governor's Picnic.
The announcement caught even current and former Palin advisers by surprise. Former members of the John McCain campaign team, now dispersed across the country, traded perplexed e-mails and phone calls. A Republican source close to her political team told CNN's John King that it was a "calculation" she made that "it was time to move on." The governor's "book deal and other issues" were "causing a lot of friction" in her home state, the source said, adding that he believes that she is "mapping out a path to 2012."
The question is, is she eyeing a position on 2012 election race?
*web photos