Adapted from my original article How to Optimize Old eHow Articles.
If you notice some of your old Bukisa articles aren't earning very much, you can go back and optimize them! There's no reason each and every article shouldn't be making you money.  This guide is going to focus on getting the right ads (known as keyword ads) into your article so it can start making money. We'll also see what we can do to drive some traffic to it!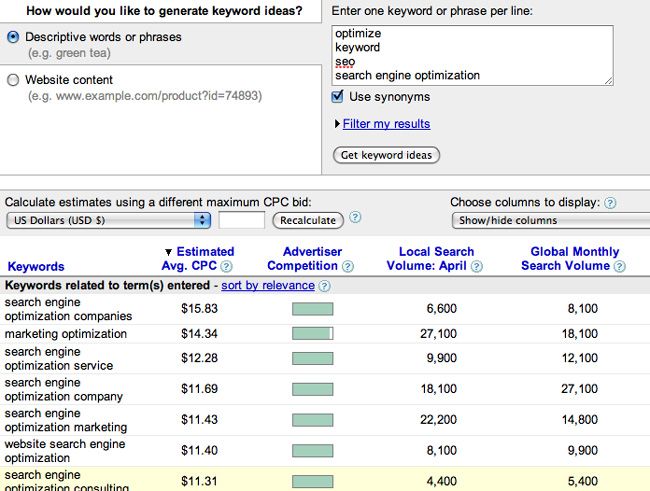 Having a unique title (also known as exploiting a niche) is really important.  We'll get to keyword ads in just a second, but while you're focusing on the title don't worry about that. The primary use of your title is to gain a higher page ranking in search engines.  The higher up an article is in search engine results, the more people will see it – and more people equals more money.  The simplest way to optimize your title is to think about what you might search for if you were looking for this type of article.  "How to Program a Universal Remote" is an ok title. "How to Program a Logitech Harmony Universal Remote" is a better title. There's entire articles about optimizing your Bukisa title.  That's not our focus here though, so let's move on.
The secret to good keyword ads starts with a good keyword.  The Google keyword tool is your best friend.  Go to https://adwords.google.com/select/KeywordToolExternal and bookmark it. Where it says "Enter one keyword or phrase per line" you want to type a few things that would make sense for your article.  Using this article as an example, we might try something like "keyword ads" "optimization" and "articles" all on separate lines.  When you've typed some in, click "Get keyword ideas".  Where it says "Choose Columns to display" select" Show estimated Average CPC".  Click the "Estimated Avg. CPC" link to organize the list by highest dollar amount.  Look through the list and pick the highest paying word (or more likely phrase) that works for your article. This is what we'll use to optimize the keyword ads.
Go back to your article and insert that term or phrase several times. Put it in the intro once or twice.  See if you can fit it into each step.  The goal is to get Google to decide this is an important term and use it to display appropriate keyword ads.  We want the page to display keyword ads that are not only relevant, but worth more money than your old keyword ads. If the term is short you can stuff your article with it.  If it's a longer phrase, plugging it in all over the place would be obnoxious.  Use your desecration – you don't have to sacrifice quality to target your new keyword ads.
Save your article and forget about it for a few hours.  Google can take some time to refresh the keyword ads.  There's a science to this – if you keep checking and tweaking the page right away you'll have a mess on your hands. After some time passes, go to your article and see how it looks. Do the keyword ads match the keyword? If they don't, you need to plant the term a few more times in your article.  Try mentioning the keyword again in the tips section, under stuff you'll need, and even in the related articles.
Once your keyword ads are behaving, you need to increase traffic to your article.  The highest paying keyword ads aren't going to do anything if no one sees the page.  Plant "backlinks" (links to the article from other sites).  This is fairly easy – post a link to your article on Twitter, Facebook, Yahoo Answers, etc. Get creative – try using promoting your article in places you wouldn't expect to find it.  The more backlinks you have, the higher you'll climb in the search engine ranking.  Most of all, post the article on Digg.  I can't stress this enough – even if no one votes for your article, simply posting the link there will draw a ton of traffic.
Additional Tips
Choosing your own articles for the "Related Articles" section is great, but it can throw your keyword ads off. You want to pick articles with the right words to help your keyword ads out. The obvious "best of both worlds" solution here is to write some more articles featuring your keywords.  You can cross link to all them and pretty much guarantee the best possible traffic and keyworda ads.
Sometimes keyword ads get stuck on a certain phrase on the page.  If planting your magic word or phrase isn't working, figure out what the keyword ads are stuck on and remove it from the page.  It may be a related article, title, or even a photo caption.
Changing your title can have some strange side effects.  The old links will still work, but many believe those backlinks won't help your ranking as much.  Than again, if you can't get your keyword ads to line up or your article isn't making any money as it is, changing that title can only help.