Adapted from my original article How to Reduce the File Size of a DVD Image.
Lots of people save full DVD images on their computers so they can watch movies without the disc.  Maybe it's an iso, dmg, VIDEO_TS folder or .dvdmedia file – they're all basically the same thing.  These files can max out at nearly 9GB, so even just a few will eat up an enormous amount of space.  Thankfully you can use some DVD copier software to shrink down the file size.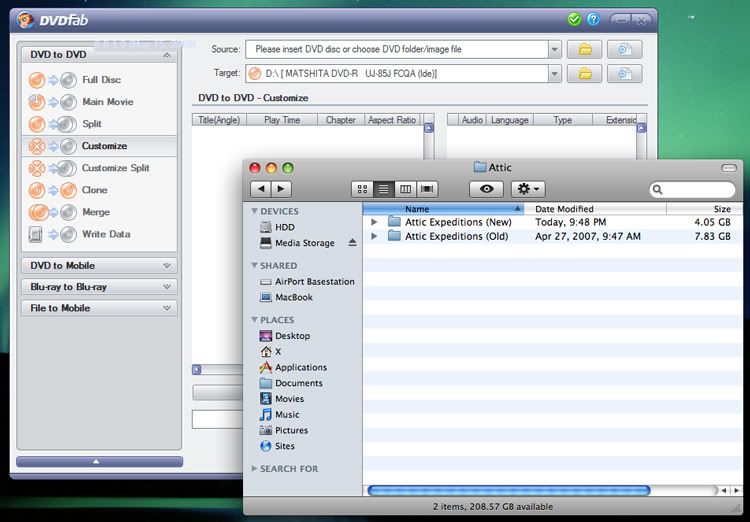 A lot of people like DVDShrink because it's free.  It's a fine DVD copier, but it hasn't been updated in a long time and is starting to age.  DVDFab, on the other hand, is a frequently updated DVD copier and can handle a lot of DVDs that DVDShrink can't.  Either way, get ahold of one of them and install it.
With your DVD copier software up, click the button to open up your DVD image.  The software will run a quick scan of the DVD.  Assuming you're using DVDFab, select your save location as well and then click "Customize" from the left hand side.
Go through your DVD and uncheck the features (titles) you don't want.  You can use the lower left window of the DVD copier to preview each feature.  You'll probably want to remove previews for other movies, but you can also ditch behind the scenes footage, bloopers and other featurettes.  The more you uncheck, the smaller your DVD will be.
As you click each title, you'll be shown the audio and subtitle tracks.  If you never use these things, tell your DVD Copier to get rid of them.  I don't speak french, so I don't need french subtitles!  I hate dubbing so I remove the dubbing audio track if there is one.  Some older DVDs also contain stereo and surround tracks – feel free to delete that stereo track!
The biggest way to decrease the size of the image is to raise the compression.  More compression means a worse picture – but a better filesize!  I often leave my video uncompressed, which you can do in DVDFab by changing the DVD copier quality to DVD9.  When you're set with all that, click "Next."
Some DVDs have giant video files for menus, so removing them saves you a ton of space.  Click the  "Remove menus" checkbaox to get rid of them.  You'll still be able to browse through different features on the DVD using the Title menu or button on your remote. You can optionally check "Remove annoying PGCs" as well.  This will get rid of the FBI and copyright warnings at the beginning of the DVD.  When you're finished, click "Start" and your DVD copier will compress the image!
Additional Tips
Different DVD copiers have different features.  Some give you more control of file size and some work with newer DVDs.
If you're looking to lower your file size to under 2GB, you should use a DVD converter instead of a DVD copier.  Give something like Handbrake a shot.