Adapted from my original article How to Convert an Image to Text.
If you have scans of a book, magazine, or some other kind of document, they may be in image form. They probably scanned in as a JPG or TIFF.  With some elusive document scanning software known as OCR (Optical Character Recognition), you can convert those image files into text documents. You'll be able to edit the text, copy it, use the find function, etc.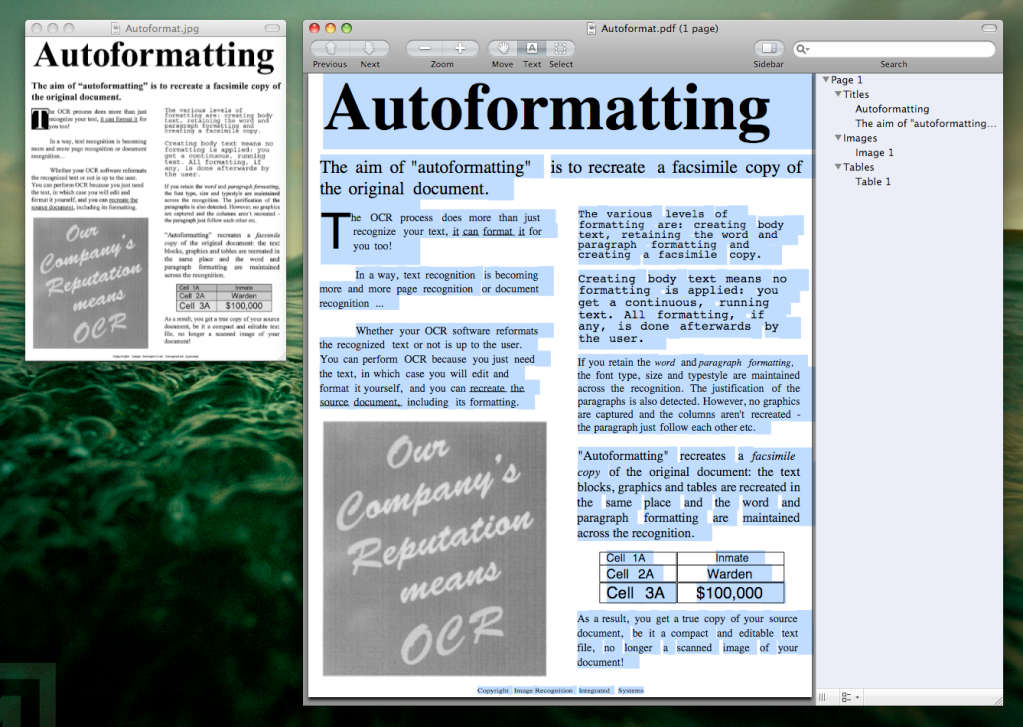 Actually finding document scanning software is the hardest part.  There's several types of it, but we're going to use Readiris. It has an easy to use graphic interface that most types of document scanning software don't. It also works on both Windows and Mac computers.  Once you've installed the software, open it OK the output message.
Click the "Open" icon to select your image.  Find the file, select it, and hit the OK button.  Once you've loaded the image into the document scanning software, it'll do exactly what you'd expect it to – scan it.
Once the image has been analysed, it'll load into the main window.  Each area of text will be hi lighted along with a number.  While document scanning software has gotten pretty sophisticated over the years, it still needs some help.  Go ahead and remove, redefine, or renumber any of the zones as need be.  You can also re-order them numerically in the order you would actually read them.
After your zones are all set up, click the export symbol.  From here you can set your output format and settings.  If you have a fairly simple image with uniform text you'll probably want to use RTF.  If there's graphics and images all over the place, you're better off choosing PDF or HTML. Once you're set, click the OK button.
If everything looks great, click the "Recognize" button.  Choose your save location and hit the "Save" button.  The document scanning software will sort back through the image and convert it all to text.  Once you're done, you can open the document with your preferred text editor.
Additional Tips
Document scanning software is tricky to find.  Most of it doesn't have a graphical interface (meaning you're stuck typing commands to convert a file like you're in The Matrix or something).
Some document scanning software has better word detection, but isn't nearly as easy to use.  That's why I recommended Iris. I know you have to pay to use it, but there's a reason for that.
It's possible that you're still not taking my word on this.  That's fine…but as you browse the net for different types of document scanning software, keep your eyes peeled for the date and software requirements.  Most document scanning software (especially the free stuff) vanished mysteriously years ago or requires an outdated plugin.
http://www.irislink.com/c2-1584-189/Readiris-12—OCR-Software.aspx
Readiris Document Scanning Software