Sometimes nature has its way of showing its naughtiness maybe to give humankind some things to laugh at or
something that would remind us that human and nature are the same that we should also handle it with care.
These unusual nature's naughty displays were created through genetic anomalies from several living organisms
and some were sculpted through certain geological factors.
This strange old tree is located at Muir Woods in California, USA. It was really surprising to see this very strange
old tree because it looks like it has a male sexual organ.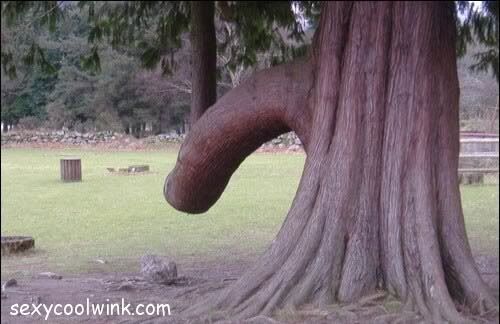 Here's another unusual tree that looks like it also has a male sexual organ.
Because of some genetic anomalies or other factor, some trees bear fruits which are unique from its usual fruits
like the fruit on the above photo.
Nature has so much wonders to offer. Some root crops, like this parsnip is very peculiar. Because of its unusual
look I named this one a "phallic parsnip".
Just like human beings, there are also fruits and vegetables that look different from the normal ones. They also
suffer from diseases and genetic anomalies just like this tomato which appeared to have a man's genitalia.
This weird-looking organism is a non edible species of mushroom called Common Stinkhorn or scientifically known
as Phallus impudicus. Its scientific name implies that this organism looks like a penis.
This species of pine tree also bears a fruit that is totally bizarre from the usual fruits that it bears.
Another odd-looking object is a species of cactus with a very unusual flower that resembles a man's reproductive organ.
Here's an additional funny and rather obscure objects created by nature.
Here's another peculiar but unnamed rock formation situated alongside a beach.
Still another unusual and unnamed rock formation found in a forest.
And here's another one. Nature is really funny, and as I have said naughty. This peculiar rock formation is located
in Arches National Park, Utah, USA. This is the same site where the famous Delicate Arch is located.
Hope you enjoyed this. Thank you!
See also
Strange AnimalActs: Bizarre and Weirdest Animal Sexual Behaviors
Weird and Bizarre Animal Sexual Acts
The Weirdest and Intriguing  Sex Life of Animals