Based on the original eHow article How to Shop For Groceries Without a Car. Used with permission.
If you recently moved to a big city or found yourself without a car, you've probably noticed that getting groceries is a nightmare.  Going to the supermarket isn't so much a problem, but getting back can prove to be a real struggle.  How do you carry all that stuff all the way back? How on earth are all these people getting their food home?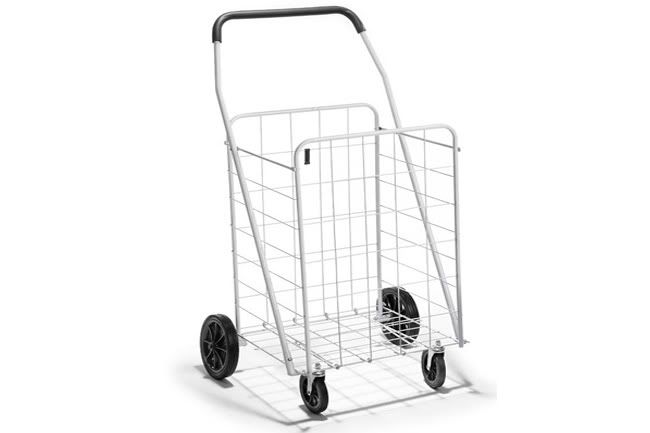 The first trick is to shop often. You're going to resist this step as long as you can, but this is how most people do it.  You're probably used to a twice a month supermarket trip but that's going to make your life a lot harder if you don't have a car.  Try shopping while you're out.  When you happen to be near a supermarket, pick up a few things and carry them back with you. The sooner you give up on the idea of one stop shopping, the better.
A lot of people can't train themselves to make short frequent trips.  People who have to do all their shopping at once can cheat and use a car! Most cities offer hourly car rental.  This sounded crazy to me when I first moved to the city, but it works.  You can take advantage of a car rental service like zipcar or iGo to make trips to the supermarket.  Rent a car two or three times a month is really cheap and gets the job done.  Nothing new to learn – park, shop, trunk, home.
If you can't use a car, try the next best thing – public transportation. This can be a little counter intuitive. When finding a supermarket in your area, your first instinct will be to choose the closest one.  It may be easier to shop farther away if you can take a bus or train.  For instance there's one supermarket three blocks east of here and one six blocks south.  While the south market is farther away, there's a bus that runs from my street corner right to the supermarket so it's almost like having my own personal ride there.  If I wanted to go to the east market I'd have to carry my purchases all the way home.  I wouldn't be able to buy as much at once.
Get a cart.  It didn't take me long to see these strange carts showing up in the supermarket. Most people call it a "Rolling Grocery Cart" or a "Folding Shopping Cart". You can get one at Bed Bath and Beyond or even some supermarkets. If you look online or search Craigslist you can find one for less than $30. Seriously, this thing is a lifesaver.
If you can't train yourself to shop like a hip car-less city person, give up and use the internet.  A service like Peapod will deliver all your groceries right to your door!  You can go to their virtual supermarket website, pick out what you want, and they'll drive them to your home. It's more expensive than the other options, but if you can't be bothered to exert the simple effort to shop yourself this is your solution.