Given the chance, how many people would you like to attend at your funeral? All throughout history, there were
individuals who were love so much by the people especially by the so-called "masses". These people
(supporters/followers) have shown their unconditional love to the person they loved and idolized until their last
moment on earth – the funeral.
1. C. N. Annadurai
Indian people are one of the most fanatic people in the world and they have manifested this many times in history.
In 1969, the funeral of C. N. Annadurai, a former Chief Minister of the Indian state of Tamil Nadu, was attended by
an estimated crowd of 15 million people.
This man is popularly called Anna (which means elder brother in Tamil language) was the first non Congress
Chief Minister of Tamil Nadu, India after independence. He was also an accomplished writer and even before
his entry into politics his penmanship and oratorical style had captivated many audiences.
2. Ayatollah Khomeini
Second on the list have two to nine million Iranians that gathered at the funeral of Ayatollah Khomeini in Tehran
on June 3, 1989.
This man was an Iranian religious leader and scholar, politician, and leader of the 1979 Iranian Revolution which
saw the overthrow of Pahlavi, the last Shah of Iran. Following the revolution, Khomeini became the country's
Supreme leader—the paramount political figure of the new Islamic Republic until his death. Internationally he also
made a great impact, and has been called "the virtual face of Islam in Western popular culture," during his reign
as ruler of Iran. He was named Time's Man of the Year in 1979 and also one of Time magazine's 100 most
influential people of the 20th century. Known as "Imam Khomeini" by his supporters and the Islamic government of
Iran, he is commonly referred to as "Ayatollah Khomeini" outside of Iran.
3. Pope John Paul II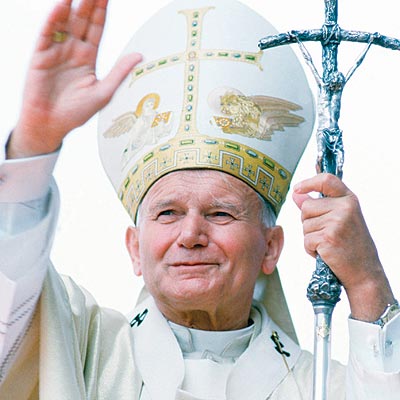 During the funeral of the most-loved pope, 2 to 4 million people are reported to have attended the funeral of Pope
John Paul II in Rome on April 7 2005.
Pope John Paul II was a notable Polish religious leader who reigned as the 264th Pope of the Roman Catholic
Church and Sovereign of the State of Vatican City from October 16, 1978 until his death, almost 27 years later.
His was the second-longest pontificate after Pius IX's 32-year reign. He was the only Polish pope and the first
non-Italian pope since Adrian VI (Dutch) in the 1520s.
4. Umm Kulthum
Next on the list is a woman with exceptional appeal to the public, in the February 5, 1975 funeral of Egyptian
singer Umm Kulthum in Cairo, Egypt drew a crowd in excess of 4 million.
Umm Kulthum was an Egyptian singer, songwriter and actress. More than three decades after her death, she is
still recognized as the Arab world's most famous and distinguished singer of the 20th century.
5. Gamal Abdel Nasser
The crowd at the funeral of Egyptian President Nasser in Cairo on October 1, 1970 was also estimated at 4
million.
Gamal Abdel Nasser (1918 – 1970) was the second President of Egypt from 1956 until his death in 1970. Along
with Muhammad Nagub, he led the Egyptian Revolution of 1952, which removed King Farouk I and heralded a
new period of industrialization in Egypt, together with a profound advancement of Arab Nationalism, including a
short-lived union with Syria. He played a major role in founding the Palestine Liberation organization, in 1964,
and the international Non-Aligned Movement.
6. Diana, Princess of Wales
On the 6th spot is the funeral of Diana, Princess of Wales at Westminster Abbey in London on September 6,
1997. It drew an estimated 3 million mourners.
Diana, Princess of Wales, was the first wife of Charles, Prince of Wales. Their sons, Princes William and Henry
(Harry), are second and third in line to the throne of the UK and fifteen other Commonwealth Realms.
7. Victor-Marie Hugo
A French poet is the 7th on the list. On June 1.1885, between 2 and 3 million people gathered to attend the
funeral of Victor Hugo in Paris, France.
Victor-Marie Hugo was a multi-talented man and perhaps the most influential exponent of the Romantic Movement
in France. His most popular masterpieces are the Les Contemplations La Legende des siecles which stand
particularly high in critical esteem, and Hugo is sometimes identified as the greatest French poet. Outside France,
his best-known works are the novels Les Miserables and Notre-Dame de Paris (sometimes translated into English
as The Hunchback of Notre Dame).
8. Mohandas Karamchand Gandhi
And the 8th largest funeral attendance in history happened on January 1948 when over 2 million people gathered
to attend the funeral of Mohandas Karamchand Gandhi
Mohandas Karamchand Gandhi was a major political and spiritual leader and regarded as India's Father of
Independence. He was the pioneer of a resistance to tyranny through mass civil disobedience which led India
to independence and inspired movements for civil rights and freedom across the world. He is commonly known
around the world as Mahatma Gandhi or "Great Soul".
Hope you have had a wonderful time reading this. Thanks!